COBI Sales students claim second place in National Team Selling competition
Four professional sales majors in The University of Toledo (UT) College of Business and Innovation (COBI) Edward H. Schmidt School of Professional Sales (ESSPS) claimed a second place finish in the 2013 annual National Team Selling competition on October 11.
Twenty-one teams from across the nation participated in the competition, which was held at the Kelley School of Business at Indiana University.
UT's ESSPS team consisted of John Doncaster, Allie Gligor, Brad Mossing and Matt Wells. They finished ahead of teams from schools such as Indiana University, University of Wisconsin-Madison, Michigan State University, University of Cincinnati, Purdue University, University of Missouri, University of Kansas, University of Washington, University of Florida and Syracuse University.  The first place award went to the team from University of Wisconsin-Parkside.
By competing in this event, selling teams from universities across the United States got the chance to take their classroom knowledge and experience and apply those skills in a selling situation that is realistic and relevant in today's market.
The ESSPS team was coached by ESSPS Director Dr. Ellen Pullins and Professor Lora Cramer, with assistance from many other COBI sales and marketing faculty members. Students received a cash award for their efforts.
"This was the second year in a row our team placed second, which validates our continued success as one of the top professional selling programs in the world," Pullins said.
The mission of the Edward H. Schmidt School of Professional Sales is to provide high quality educational programs in sales and related areas, to enhance the world of business practice related to professional sales and to become a recognized global leader in sales learning, discovery and engagement. ESSPS provides a learning environment for students, faculty and business professionals that promotes shared learning, networking opportunities and the exchange of ideas about sales issues in an open and professional manner.
The National Team Selling competition is made possible through the financial and volunteer support of Altria Group Distribution Company and 3M Corporation.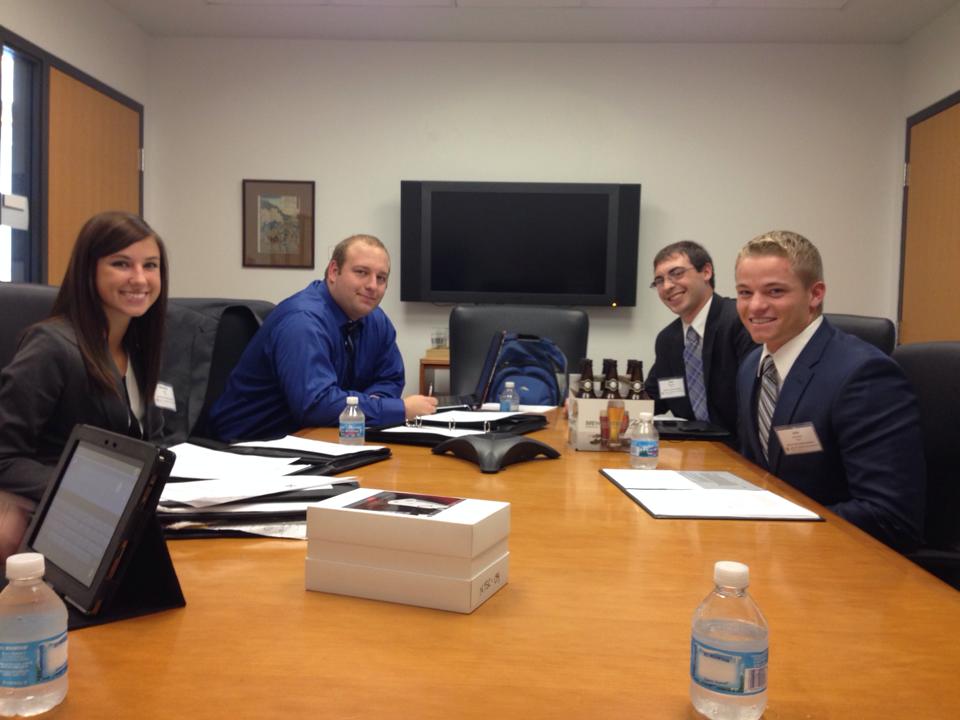 Pictured above (from left to right) are: Allie Gligor, Matt Wells, John Doncaster and Brad Mossing