HR Undergraduate and Graduate Students Compete in HR Case Competition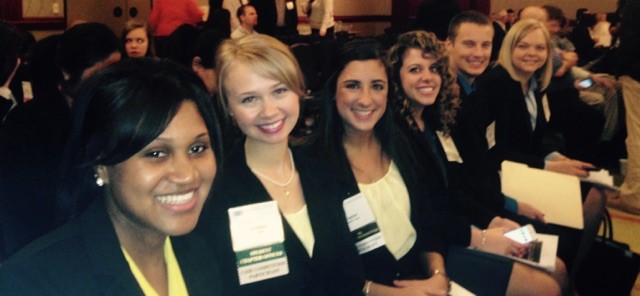 Both an undergraduate and a graduate team of University of Toledo College of Business and Innovation human resource management students competed Friday, April 24, 2015 in the Society for Human Resource Management (SHRM) Central Region's HR Case Competition that was held in northern Kentucky.  Twenty teams of undergraduates and seven teams of graduates prepared their written responses to a case concerning social media, concerted employee activity, and the Health Insurance Portability and Accountability Act (HIPAA) and presented their findings and recommendations to senior-level HR professionals. 
The UT COBI undergraduate team of Shannon Veasley, Christina Koepke, and Taylor Juza, in the words of the judges, "did a fabulous job in presenting the issues, causes, alternatives and provided a sound, strong recommendation."  The team came in 6th place out of the 20 competing teams.  The winning undergraduate team was from the University of Tennessee-Knoxville.
The graduate team of Crissy Sarantou, Kyle Schaefer, and Stacey Koehn also were commended by the judges for their excellent speaking ability and creativity in their written presentation.  The team came in 5th place overall in the graduate category.  The winning graduate team was from the University of South Dakota.
The Society of Human Resource Management is the primary professional organization for human resource management professionals and students, with 280,000 members world-wide and 450 student SHRM chapters.  The University of Toledo's student SHRM chapter meets every two weeks during regular semesters.  For more information on UT SHRM, contact one of its advisors, Dr. Robert Yonker (robert.yonker@utoledo.edu) or Dr. Jenell Wittmer (jenell.wittmer@utoledo.edu).
Pictured from L to R:  Undergraduate Team (Shannon Veasley, Christina Koepke, and Taylor Juza) and Graduate Team (Chrissy Sarantou, Kyle Schaefer, and Stacey Koehn) ready to compete in the HR Case Competition in Covington, KY.