Professional development certificate courses sharpen employees' skills, produce direct results for UT
From fall, 2012 through spring, 2013, 90 UT employees participated in professional development certificate courses presented by the College of Business and Innovation through its Executive Center for Global Competitiveness in partnership with the UT Human Resources office.
"Congratulations on behalf of the College of Business and Innovation," noted COBI Interim Dean Thomas Sharkey at the April 23 certificate awards  ceremony at the completion of the classes. "We are pleased that we are, in part, responsible for these programs, along with other leaders of this University, for the development of UT's staff."
Julia Rippke, who completed the leadership course, said, "We learned a lot from the instructors in the College of Business and Innovation, which is a jewel in the crown of our university."
"These courses reflect a commitment to learning, professionalism and leadership, not only to improving yourself, but also our University of Toledo," noted Daniel Johnson, UT President Emeritus and keynote speaker at the certificate presentations.  
"Your secret is out: you are a learner," Johnson said.  "You are the building blocks of the knowledge economy.  Our ability to contribute is based on what we know. It is a building process which takes many forms, and there are no shortcuts.  Courses such as these provide a framework for adding to your knowledge.  The power of application extracts the value of what you learn and applies it in the workplace, the home and everyday life.  The return on your investment is what you do with that knowledge."
He pointed out, however, that "Learning doesn't always make your life easier.  It may result in more responsibility and harder decisions, decisions that may impact the lives of others."
Johnson told the participants, "Whether or not you recognize it, you have inspired us as much as others have inspired you.  There is no way to improve in this rapidly changing world without learning.  You are using every opportunity you have, and your actions speak for themselves."
Certificate recipients in the various professional development  program categories are:
Leadership Certificate: Sherry Blosser, John Cavins, Lori Deshetler, Elissa Falcone, Michael Firsdon, Lisa Hasselschwert, Tracy Jahns, Sherri Jiannuzzi, Alan Lasu, Monica Leppelmeier, Joseph Manner, Brenda McKinley, Erik Meiner, Marc Miller, David Nietrzeba, Patricia Pulcini, Julia Rippke, Lorie Sarnes, Douglas Sinnott, David Walczak, Alyson Walker
Blosser said the course taught her to "take the first 15 minutes of each day to figure out what you have to do. " Hasselschwert observed, "It's not just one thing, but taking everything and putting it together."
Leadership (from Left): Front Row: Michael Firsdon, Joseph Manner, Sherry Blosser, Marc Miller, Douglas Sinnott; Middle Row: Thomas Sharkey (COBI Interim Dean), Lorie Sarnes, Sherri Jiannuzzi, Lori DeShetler, Julia Rippke, Daniel Johnson (President Emeritus); Back Row: John Cavins, Tracy Jahns, Rick Gerasimiak, Alan Lasu, Lisa Hasselschwert, Robert Yonker (instructor)
Exceptional Customer Service Certificate: Sara Clark, Maxine Cross, Robert Frye, Reynaldo Guerra, Deborah Houck, Michael Klug, Ashley Lavalette, Georgina Molina, Antra Pump, Seane Ronfeldt, Melodie Rufener, Victoria Stamm, Kevin Thoman, Cheryl Thomas, Peter Thomas, Carl Warner, Doreen Wisniewski
Clark said the course taught her to "ask ourselves, 'How do we interact with our students, and how are we serving them? Are we doing a good job… or a great job?'"
Ronfeldt said, "I realized the importance of teamwork and how much of an investment UT made in us; it is a wonderful institution."
And Stamm discovered not to treat people by the Golden Rule, but rather "by the Platinum Rule, which is how they want to be treated."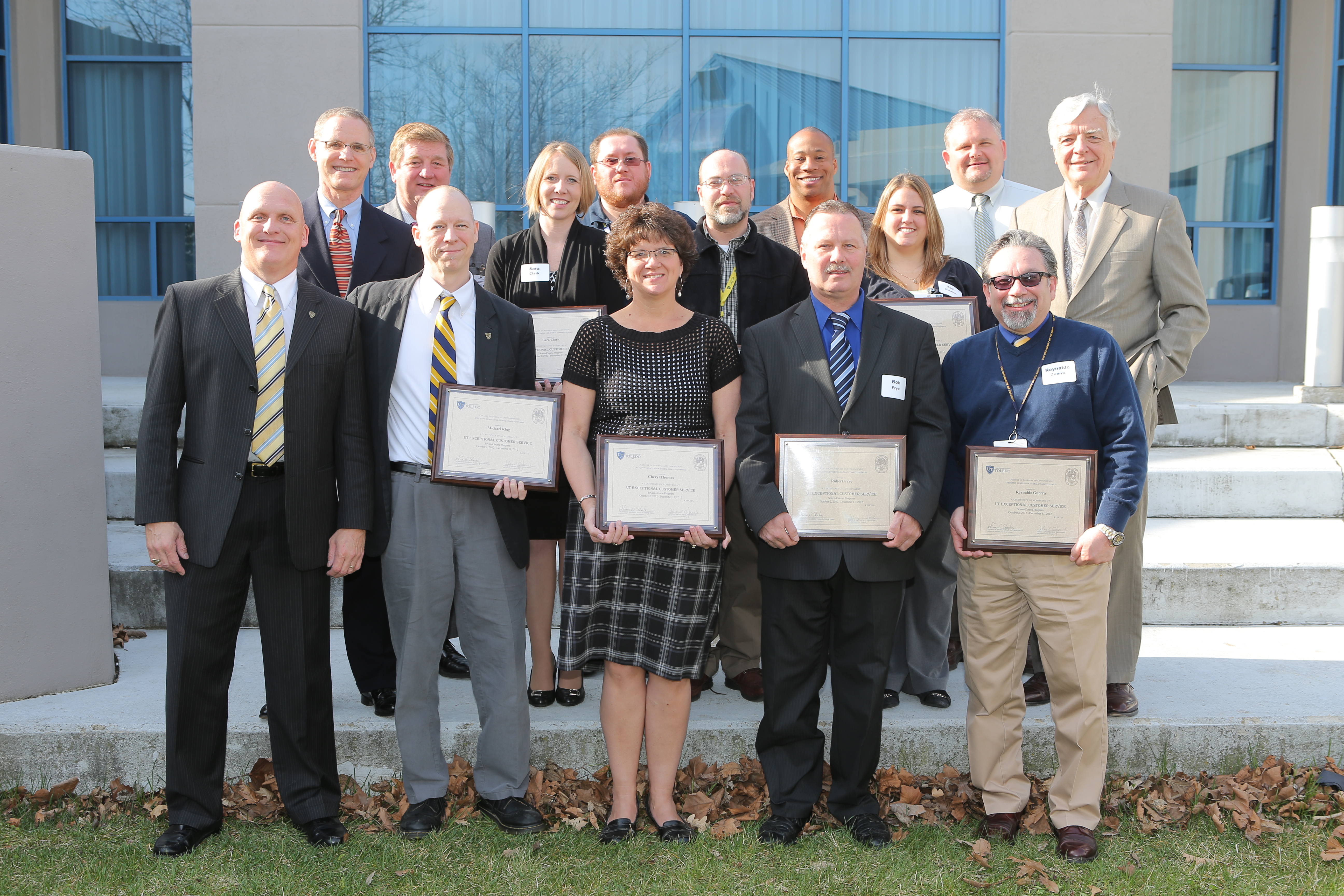 Customer Service (from Left): Front Row: Clint Longenecker (instructor), Michael Klug, Cheryl Thomas, Robert Frye, Reynaldo Guerra; Middle Row: Don Levitt (instructor), Sara Clark, Seane Ronfeldt, Victoria Stamm; Back Row: Chuck Lehnert (VP of Admin), Kevin Thoman, Sammy Spann (Asst. Provost), Peter Thomas, Daniel Johnson (President Emeritus)
Managerial Finance and Budgeting Certificate: Donna Braswell, Jennifer Freeman, Brenda Humberston, Patricia Pertz, Marianne Pohlman, Meghan Rayfield, Mary Ann Schuster, Janet Sumner, Jason Toth, Denise Turk, Hesham Youssef
Braswell said, "In the course of the classes I learned the big picture about the budget," while Toth echoed the sentiment by saying, "Thanks for the opportunity to get to know a lot of great individuals and what they go through, and for making me look at the University as a whole."
Youssef observed, "UT has an amazing impact on my life.  Through the course I learned how to think outside the box, to analyze a problem and come up with a solution."
Professional Human Resource Management Certificate: Joe Klep, Denise Shordt, Linda Torbet
Klep said, "No matter how many years you have in your profession, these courses keep you up to date for the 21st century."
Project Management Certificate: Melinda Adler, Gail Burgin, Scott Case, John Cavins, Dominic D'Emilio, Michael Haar, Alan Lasu, Carol Lawrence, Leslie Rhegness, John White
Case said,"Project management is an art form, to define processes and how long they take," while Lawrence observed, "The information I gained was value-added, and we walked away with an actual project that can be carried forward at UT."
Six Sigma Certificate: Scott Case, John Cavins, Dominic D'Emilio, Diane Eisel, Rick Gerasimiak, Mary Kurtz, Michael Lowry, Joseph Manner, Marc Miller, Jim Nowaczyk, Robert Rahman
Participants in the Six Sigma certificate program not only learned the Six Sigma principles, but applied them throughout the course to specific projects and issues at the University. 
For example, one team worked on the issue of charge capture reconciliation for the UTMC radiology department and laboratory.  Delays in billing and reconciling charges for supplies resulted in lost revenue, increased processing labor charges, and a decline in patient satisfaction due to confusion about billing statements they received.
Steps in the Six Sigma process on this project included listening to the voice of the customer, including internal customers, such as staff in radiology, laboratory and patient financial services, as well as listening to external customers, including patients and insurance companies.
Applying Six Sigma tools, such as documenting current processes, measurements, analyses, and implementing improved operating procedures, led to the hospital receiving more rapid payment for services provided, adding to an improved financial bottom line.
Diane Eisel said, however, that "the impact on the customer is priceless."
She added, "We had a great team; I learned from them and all the people we worked with.  Everyone has a passion for their work, and strives to make UT a better place.  It is really important to see the Six Sigma Process is meaningful."
Mary Kurtz, who worked with a team on a project to reduce the volume of calls to UT's Information Technology Help Desk, said her experience with the Six Sigma Process showed her "that even the smallest problem can impact everything.  I see every day as a new opportunity."
On the same team as Kurtz, Mike Lowry, manager of Information Security, said "Anytime you can add to your knowledge is a good thing, and this was all about going through a process that works and that you can improve over time."
Chuck Lehnert, UT's Vice President of Administration, observed, "Most of my career I have been involved with physical assets; buildings, land and equipment, which we keep in good, functioning shape.  But our most valuable assets are people and these courses are an investment in those assets."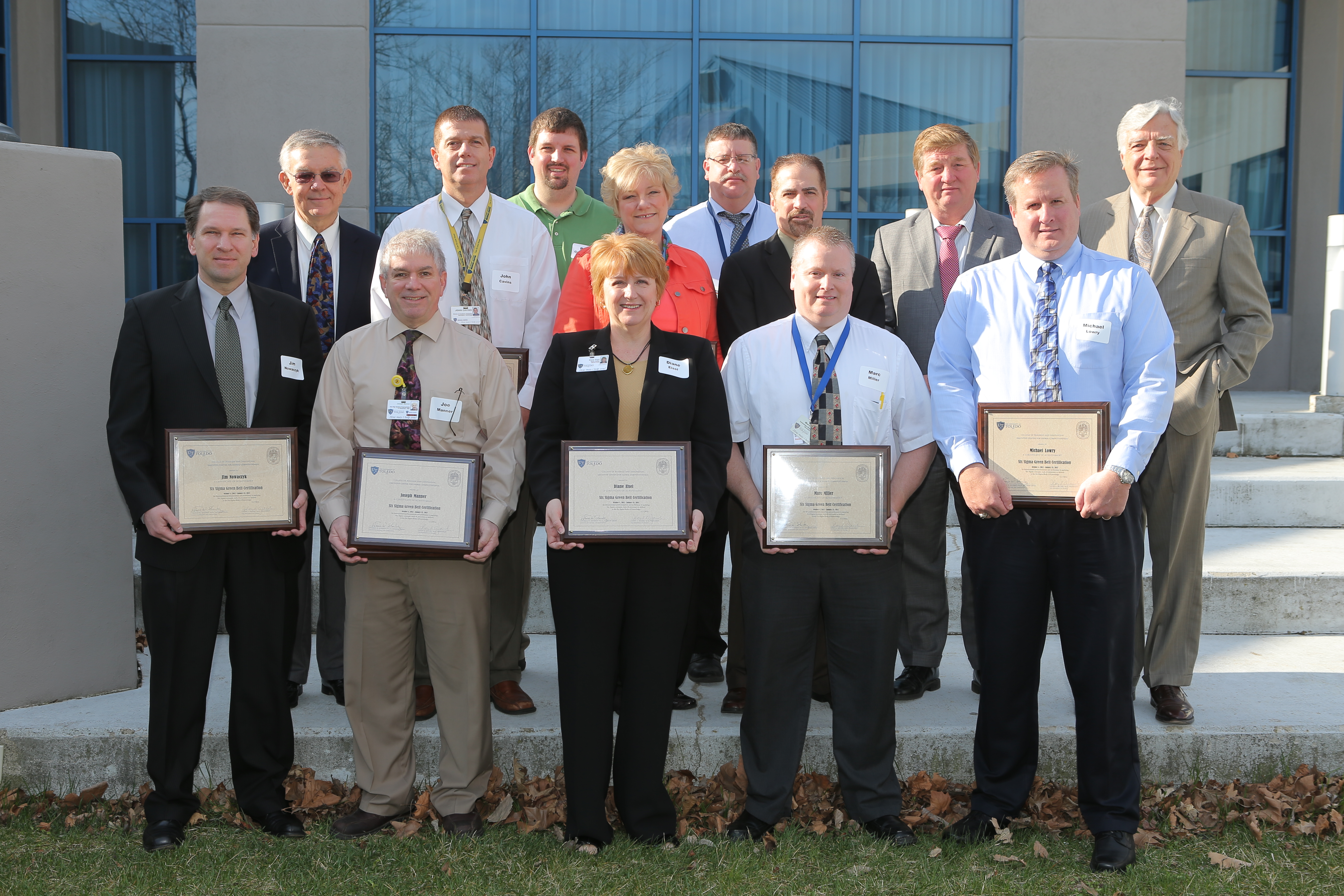 Six Sigma (from Left): Front Row: Jim Nowaczyk, Joseph Manner, Diane Eisel, Marc Miller, Michael Lowry; Second Row: Jim Zare (instructor), John Cavins, Mary Kurtz, Dominic D'Emilio, Chuck Lehnert (VP of Admin), Daniel Johnson (President Emeritus); Back Row: Rick Gerasimiak, Scott Case