COBI grad student wins statewide accounting manuscript competition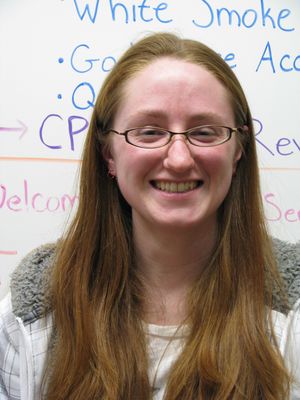 UT COBI graduate student Laura Zielinski authored the winning paper - -   "The Impact of Supply Chain Enhancements on Financial Performance:  The Time Factor"  - - in the 2016 American Accounting Association's (AAA) Ohio Region Student Manuscript Competition in the graduate category.
Zielinski will be recognized during the annual regional meeting of the American Accounting Association in April and will be presented with a check for $500.
"I had originally written an article about 'Supply Chain as a Cost Management Tool' for Dr. Amal Said's Advanced Managerial class in the Fall of 2015, and I intended to conduct further research in that area and submit a new paper," she said. "My professor, Dr. Hassan HassabElnaby (Chair of the COBI Department of Accounting and faculty sponsor for the paper), said the American Accounting Association would want to see more data, so I searched Compustat for variables such as cost of goods sold, ending inventory and gross profit, calculated industry averages and I rewrote the entire article due to the better data available and refined idea."
In the winning paper, Zielinski examines the time required for a company to begin experiencing the effects of a supply chain enhancement on its financial statements.
"The financial areas considered in this paper are costs of goods sold, gross profit and inventory," Zielinski said. "The results of the analysis indicate that companies generally experience positive effects from the enhancement three to five years after the enhancement is announced."
"I was really proud of winning the competition," she said, "and it was a big deal for UT, showing off the work we can do."
Dr. HassabElnaby, who was Zielinski's faculty advisor for this paper said, "Laura did tremendous work on this project and it is wonderful to see the American Accounting Association recognize her with the first place award."
Zielinksi said she studied accounting in high school and was always interested in finance. She had previously entered a regional essay writing competition in high school, winning third place.
"I entered the AAA contest in February and in March I received an email from Dr. HassabElnaby who forwarded an email to me that 'Your student won.'  I was so happy, because I put so much work into this.  To have my college paper work recognized as high quality makes this award so much better."
Zielinski, who is from Toledo, said she chose to attend The University of Toledo College of Business and Innovation because "I liked UT after visiting here, plus I knew it had a good accounting department. I liked the faculty, the campus and the facilities."
She has done two tax internships while at COBI, will graduate in May of this year, and plans to take the CPA exam this summer. She is also a graduate assistant for the accounting department and a tutor in the COBI Alan Barry Accounting Lab, saying "I like helping people as much as I can. As an accountant, we do things to help people have the information to make good decisions. As a tutor, we can help students understand accounting so they can make good business decisions in the future."