Major recognition for COBI marketing students, organizations
Pi Sigma Epsilon earns both chapter and individual national awards: On March 21-25, COBI students attended the Pi Sigma Epsilon Professional Business Fraternity (PSE) National Convention in Milwaukee, winning a Chapter Sustained Excellence Award (one of six in the nation) for maintaining Gold Status for three or more consecutive years. COBI sales student Stephanie Elkins claimed first place in their National Pro-Am Sell-A-Thon as well as Top Salesperson of the Day, and Jacob Pawelczyk was named a National Finalist. UT COBI also won second place in Top Management Team, third place in the case competition, fourth place for the chapter's recruiting efforts and finalists in the Marketing Research Challenge.
____________________________________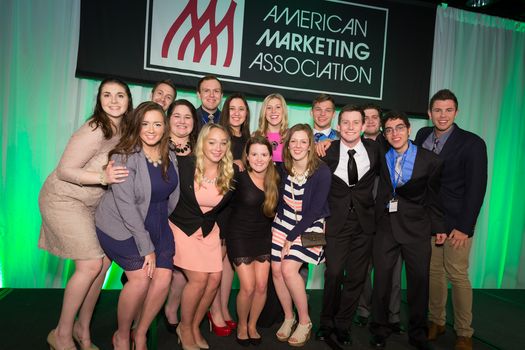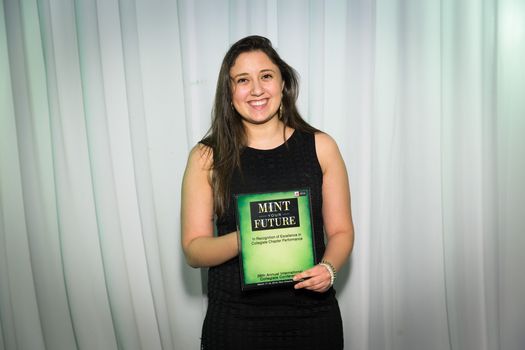 COBI AMA Chapter named in the worldwide Top 25: The UT COBI Chapter of the American Marketing Association was recently recognized as a Top25 chapter in the world. In March, a group of 15 UT AMA members attended the 38th Annual AMA International Collegiate Conference in New Orleans where they were judged on activities from the past year. In order to gain this accomplishment the chapter had to excel in six areas: professional development, community and social impact, fundraising, membership, internal/external communications and chapter operations. With over 350 AMA chapters reporting, it is a tremendous accomplishment for the students to be recognized with this accolade.
"Achieving this status has definitely put our organization, College of Business and UT in the spotlight," said Dina Teeti, COBI AMA chapter president. "Chapter wise, being top 25 is a great motive for our members to be more involved within the organization and it definitely encourages them to go above and beyond. In addition, this will also be a great marketing tool for our organization in terms of recruiting new members and fostering new great relationships with business professionals and many companies within Northwest Ohio. "
"Gaining this international recognition and being able to top more than 300 other universities with AMA Collegiate chapters including very big and well known universities, such as University of Arkansas, University of Florida, University of Michigan, University of Texas and many others, definitely speaks volumes about what the University of Toledo has to offer its students and puts us at a great advantage."
Teeti added, "To achieve this status, a chapter needs to excel in six different categories; Professional Development, Social Impact and Community Service, Membership, Fundraising, Communication and Operation. In the past, our organization has been fairly small and we were focused on growing the organization as a whole and increasing membership size. I knew that our students are capable of doing great things and that we are not less qualified than any other university to be one of the top chapters. That's when I told our former president that next year we are going to come back a lot stronger and we are going to win awards, and we sure did."
"Our biggest thing this year has been developing a structure for the organization, because we have  grown a lot over the past two years that it became necessary to create a structure to help us operate smoothly. Then we created our vision, formed our goals for the year, strategies on how to obtain them, we empowered our members and most importantly, we made sure we created a safe environment where it was okay to make mistakes and learn from them. That allowed us to keep up with our goals and excel in all of the six categories, resulting in becoming one of the top 25 chapters internationally."
Teeti recalled the moment they heard the news.
"More than 80 other colleges were awarded for excelling in one, two or three categories and our name wasn't among any of them. By the time they were done announcing them, most of our members had already left because they didn't think we were going to be awarded anything. Nationals clarified that the top 25 are chapters that exceled in all categories. When our name was announced and came up on the screen, I literally stood up and I couldn't move, I wanted to cheer very loudly but at the same time I was speechless and I cried."
"I would say that the moment we got recognized as top 25 chapter and the feeling of joy I had are two things I'm going to hold very dearly to my heart forever. Being the president of any organization is not an easy job; it was definitely challenging but extremely rewarding, especially when you see that your and your peers' hard work payoff. It's truly the best feeling in the world."
Teeti said, "We would have never made it this far without the support of the college of business staff and faculty members, the marketing advisory board, alumni/former leaders of this organization and most importantly, our amazing adviser, Mark Gleim, who is truly one of the most outstanding, supportive and encouraging people I've ever met. Mark never told us what to do but instead he empowered us by letting us (students) run the organization and he was always there for us whenever we needed help and advice. I'm beyond thankful and honored to have had the opportunity to work with such an amazing adviser."