COBI's Rocket Launch program prepares freshmen for collegiate success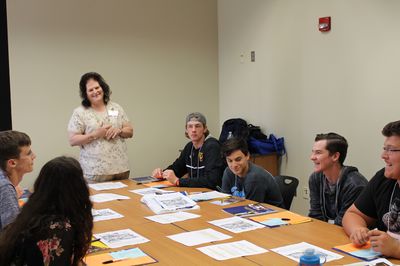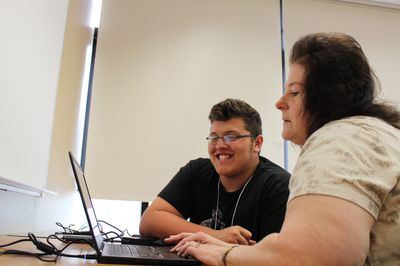 The University of Toledo College of Business and Innovation does its best to prepare incoming freshmen for their success, both throughout college and beyond. This preparation begins during UT's one-day orientation program, called Rocket Launch, which is required for all new students.
The Rocket Launch morning program takes place in the UT Student Union and addresses university-wide issues. During the college specific afternoon session, students declaring business as their major spend three meaningful hours in COBI's Savage & Associates Business Complex. So far this summer, over 300 incoming Business students have participated in the June programs with more students to come during the July and August sessions.
"The first presentation of the afternoon is for both students and their parents," explained Dr. Terribeth Gordon-Moore, COBI Senior Associate Dean, "during which we provide an academic picture of COBI: an overview of the curriculum,  the credit hours, the plan of study, how to register for their courses, features and resources of the college.   We discuss the academic advising assistance available to COBI students as well as practical issues such as the necessary time management skills and study time which is needed to be successful."
"Then students are split into groups for meetings with advisers, while the parents remain in the large classroom. We consider this a first step of independence for many students who need to start listening and learning how to make their own decisions," Dr. Gordon-Moore said.
"My focus with parents is careers, explaining the job outlook for each of our majors, telling them success stories and about internships. Parents often ask if internships are paid positions - - over 95% of our internships are paid - -and the number of hours their student will work."
"My primary message to parents is that we will get their son or daughter a position, tell them that we want to students to come to our job fairs, even as freshmen," she said.  "Companies have morphed from solely focusing on juniors and seniors - - many of whom already have an internship or even a job offer - -and are now looking for and recruiting freshmen. As a result we have made some changes to our courses to correspond to the demands of employers, being more specific as to what students need, such as Information Systems (IS) experience."
"Parents always focus on careers and they have told us that this is the best part of the day. We  - - students, parents and all of us at COBI - -  want our students to have rewarding careers upon graduation, and we explain how we help them get to that goal," Dr. Gordon-Moore said. "If the student is actually taking the time to participate in all we have to offer, such as etiquette dinners, our job fairs, the mock interviews in our Business Career Programs office, and more, there is no reason why the student won't have a job offer."
"This is all part of a successful college experience that leads to a successful professional career."