Carmonita Williams - Search Engine Optimization Intern (Vin Devers Autohaus of Sylvania)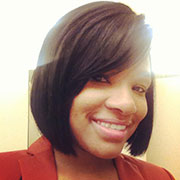 "My job title at Vin Devers is Search Engine Optimization Intern. The job entails knowledge in HTML, Java Scripting, Graphic Design, Web Development and of course Search Engine Optimization. My responsibilities include both Marketing and Management day-to-day operations that consistently enhance Vin Devers' website page rankings on Google and other top search engines.
I was honored when offered the opportunity to intern at Vin Devers, the Mercedes-Benz, Audi & Sprinter dealership. I have the great pleasure of helping to build upon an already great reputation, and the fact that I was selected as a candidate to do so lets me know that my work ethic is evident. I look forward to being a part of the team that has an effect on the visibility of Vin Devers' many web pages. Not only do I expect to give 100% in everything I do, but I also look forward to moving up within the company.
COBI played a big role in helping me obtain this internship. Working with Business Career Programs and COBI's Senior Associate Dean Terribeth Gordon-Moore has changed my whole perspective on how much of a plus it is to have convenient assistance when searching for job and internship opportunities.
COBI prepared me for this internship by providing mock interview practices and resume critiques. Being a UT COBI SEARLES Ambassador and an active collegiate in Pi Sigma Epsilon Co-ed Business Fraternity here at UT also prepared me because I follow most of the same guidelines of representing the College as I do for Vin Devers.
I am currently studying Marketing and Management, which I chose to challenge myself. My mother Wanda Williams always told me that if I want something done right I have to do it myself. As a child I never really understood what she meant by that, but as an adult I know now. My grandmother Jke Williams, my aunt Pamela Williams, and my mother always wanted what's best for me. Their teachings seemed true enough to me at a young age and even more now because I've blossomed into a mature and responsible young lady. I've discovered that I'm identified with the order brought to a setting through management organization that optimizes opportunities and a competitive edge.
I selected The University of Toledo College of Business and Innovation because I knew that it was the best decision for me after reviewing the course catalog. Being educated in a business culture that has proven success will enhance my career pursuits. Outside of hearing great things about the University, I felt the need to consider its distance away from my hometown Cleveland, Ohio. Even though I can't stand being away from family and friends for long I knew it wouldn't take me too long to travel the Ohio Turnpike back and forth. The University's inner city location has its perks and I appreciate that as an undergraduate student from another city.
I will graduate from The University of Toledo in May, 2014. After graduation I plan to ultimately become a business owner and much more, but until then I will work to gain valuable experience in my field of study. I will maintain flexibility while turning my dreams into practical goals in a cutting-edge work environment.
It pays to be good to people. I started my career at UT not knowing where my college experience would take me, but along the way I learned that it's not always about what you do, but who you do it for. I believe that the best things in life are worth working for. I consider myself a natural born leader and the best is yet to come!"