Dominique Jones - Aftermarket Sales Support Intern (Tenneco)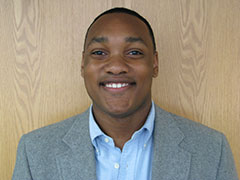 "As an intern with Tenneco, my main jobs were to make calls on existing and new customers, create brand awareness, and maintain customer relationships. I would create a list of calls each night, go out the next day and spend anywhere from 15 to 45 minutes with each customer, making sure they knew about our product and how to sell it to their customers. During the internship I traveled to five different states and made over 200 sales calls.
COBI played a major role in helping me. I was selected from a pool of students to compete in the UT Invitational Sales Competition and there I met Chuck Osgood from Tenneco. He watched me compete and after I won he asked me to come to an interview the following week.
I owe a lot of my success to the COBI staff and their willingness to help students, from one-on-one practice role plays to letters of recommendations. Also the mock interviews I did with Pi Sigma Epsilon made the actual interviewing process less intimidating. I feel like I would leave someone out if I tried to list everyone who has helped me over the years, but they know who they are.
I chose the UT College of Business and Innovation because my "nana" received her HR degree from The University of Toledo and she always spoke so highly of the school and how it helped her in her career. I knew I wanted to pursue a career in business and I thought UT's College of Business would be the perfect place to start my journey.
I am majoring in professional sales and marketing. I chose sales because each job I've held since I was 14 has been in retail and I've always enjoyed the challenge and the rewarding feeling that comes from closing a sale. I later declared marketing as my second major after doing a marketing internship with GEM Inc.
I would tell someone considering attending The University of Toledo College of Business and Innovation that this is the best college, hands down. The amount of resources you are given, the connections and the training is second to none. The College of Business also offers a plethora of business organizations for you to join where you can expand your network.
My goal after graduation is to obtain a sales job that will allow me to travel and utilize the skills I've developed over the years. I know that success is inevitable if you are willing to do what it takes."