Jazsmine Gordon - Human Resource Intern (ProMedica)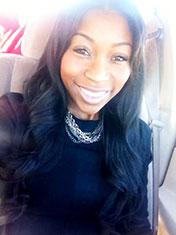 "I chose The University of Toledo College of Business and Innovation because the fit was just right; I couldn't see myself in any other college at UT.
My major is human resource management, with a minor in business law. I developed a passion for human resources in high school. I love it, and there are so many different areas of HR to explore. As the world changes, HR changes as well.
I'm currently an HR intern at the ProMedica Recruitment Center. It's a great organization for an internship because I get to experience the recruiting process on a large scale, from start to finish. Everyone at ProMedica is great and everyone at the recruitment office does everything to make sure I get the best out of my internship experience. I'm looking forward to helping people follow their dreams and landing their career jobs. I want to make people feel comfortable and make the best of the work experience.
COBI played a big role in helping me obtain my internship: from what I wore to my interview, to my responses to interview questions and actually learning where to search for internships. My major does not require an internship for graduation, but the people in COBI made it clear how important it is to obtain experience and do internships.
COBI is also helping me prepare for my career in so many ways, from the mock interviews to the power networking events to the job fairs. I have learned how to interact with other professionals in a respectful, professional way. Building a resume is a big step when preparing to enter the job market, and COBI helped me tremendously in building a resume that I'm confident with.
Students should take advantage of everything COBI offers. Many majors have their own organizations which is great for networking with people in the industry. Get involved in everything and network with everybody. You will be amazed what COBI teaches you outside the classroom."