Jessica Filzer - Field Auditor (Sherwin-Williams)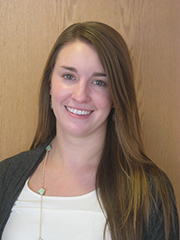 "I have accepted a position as a Field Auditor with Sherwin-Williams. My responsibilities are to audit the operations and financials of retail Sherwin-Williams stores in Houston, Texas.
COBI played a major role in helping me obtain this position, as well my recent internship with Momentive.  In addition to the incredible education I have received from the College of Business and Innovation that prepared me for the responsibilities of the position, they helped me immensely in my job search. I first learned about the Sherwin-Williams Field Audit program at the Job Fair put on by the Business Career Programs (BCP) office, where I talked to recruiters from Sherwin-Williams and then had my interviews on campus in the BCP office.
I am very excited to begin my career with this position and company because it puts me in a great position for my future career goals. I was looking to join a reputable company with great people where I could learn and develop my skills, and Sherwin-Williams fits that description perfectly. I will have the opportunity to get a broad look at the business through my audit experience and great advancement opportunity within the company.
My specialization in the MBA program was finance, which I chose because one of my favorite classes that I took as an undergrad was Principles of Financial Management, and I have always enjoyed working with numbers.
COBI did an amazing job of preparing me in several ways. First, the classes that I have taken and the faculty have been instrumental in giving me the educational background I needed. Secondly, the programming presented by COBI and the Business Career Programs office, such as the job fair, etiquette dinner, and resume critiques, helped prepare me for the professional environment and develop my professional network.
The COBI instructors are phenomenal. It was apparent from my first COBI experience that the entire faculty and staff were incredibly student-focused and were dedicated to helping students not only in class, but to succeed in their future careers. I would encourage anyone considering studying business at UT COBI to do so."