Josh Light - Eaton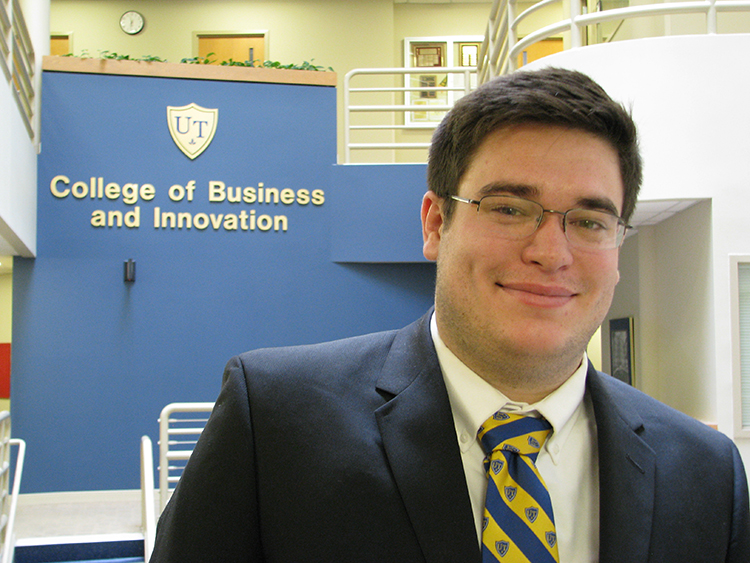 Originally from Colorado, I looked at 16 colleges in four states, and I thought I would go to a smaller school with less than 5,000 students. Then I came with my mom to tour UT, and with every building I saw, I thought, "This is awesome." I liked the layout and the design and the buildings and the brick, and took a lot of pictures.
I actually started with biology and changed my major five times. During my sophomore year I worked at a debt collection agency; from there I developed my interest in accounting, which got me into the door at COBI. I took accounting, but discovered that I do not have a passion for it.
I never would have thought that I was interested in programming on computers, but Teresa Keefe (lecturer in the COBI Department of Information Operations and Technology Management) was the most influential person I met in college. I spent a lot of time in the computer lab, and with the help and advice of Keefe, it just clicked one day.
I did an internship at Evraz, a steel mill in Colorado, doing a lot of operations work, and I just loved it, and I realized that Information technology and supply chain came together. With that understanding, your value to an organization increases ten-fold.
Since my sophomore year Dr. Clint Longenecker, Amy O'Donnell, Teresa Keefe and Craig Turner kept pushing me to attend the job fairs which COBI presents, but I never thought I needed it. They just wanted me to walk around, get a feel for it, and learn how to pitch yourself. So I went to the job fair in September, 2015, went through mock interviews with Marty from Eaton before the job fair, so I was feeling good and excited about the job fair.
I went to several companies, including O-I, Marathon, and Cooper Tire, then Marty literally grabbed me by the arm and said it is "go-time." I later did a phone interview with Eaton, and a week later I had a phone call from Eaton to go to Cleveland for an interview. I received and accepted their job offer to be an ITDP (Information Technology Development Program) for two years, and it will entail both supply chain and operations management. I will start in May 2016 following graduation.
If someone asked me about attending UT COBI, I would tell them that my success came as a business major, the preparation I received and the job offer I received.