Kate Loeser - People Team Coordinator (Ernst & Young)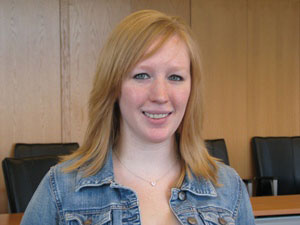 "My undergraduate degree at UT was in Human Resources & Organizational and Leadership Management. I started my MBA directly after graduation and decided to specialize in human resources. I chose HR because I have had a few internships and part-time positions in the field and I really enjoyed my work; I realized that I had picked the right career path for me.
In April I start work at Ernst & Young in human resources where my job title will be People Team Coordinator. I will be supporting four HR consultants and a few project managers who all support the advisory services at E&Y. The position is new to the department, so the responsibilities are likely to grow and change.
I am really excited to be working for such a great company. They have a wonderful culture that is very people focused. Even before my first day, most of the team I will be working with have gone out of their way to reach out to me and make me feel welcome.
I had some great professors throughout my time in UT in the College of Business & Innovation. They helped prepare me for my career and supported me in my job search. I also took advantage of the job opportunities that are posted through the Business Career Programs (BCP) office; I obtained two internships and one part-time position in human resources through the jobs posted with COBI.
All of the job search and technical skills that I learned through my undergraduate and graduate experience at UT helped me to obtain this position.
COBI offered me many great opportunities to get involved and did a great job helping me prepare for my career. The BCP office is a great resource available to students and the professors are very knowledgeable and supportive and will go out of their way to help their students."