Megan Massi - Core Assurance Associate (PricewaterhouseCoopers)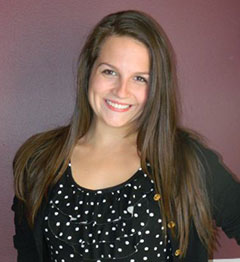 "Upon graduation, I will be working for PricewaterhouseCoopers in the Core Assurance line of service as an Associate. My primary role will be auditing publicly held companies to ensure the reliability of financial documents so that external users can make informed decisions.
I am looking forward to working with other talented individuals and continued learning. I cannot wait to take the concepts I have learned in class and cultivate my knowledge through my experiences at PwC, which is a great company.
Deciding where to go to college was a really easy decision for me after visiting The University of Toledo College of Business and Innovation. When I visited as a senior in high school, COBI was so welcoming and willing to assist me in any way possible. I felt at home the minute I walked in the doors. I also saw many opportunities available to me as an incoming freshman, such as the Jump Start Program. I know that this program was the stepping stone for my success at UT. This program is so unique to COBI, and it really made my decision to go to UT that much easier. I also saw myself developing as a professional here through the resources, community, staff, students and more. I knew going here would allow me to achieve my most ambitious goals.
I had never taken an accounting class in high school so I knew pretty much nothing about it going into my fist accounting class, but shortly after the class started I knew it was the right area of study for me.
During my sophomore year, I received an email from Dr. Terribeth Gordon-Moore informing students that PricewaterhouseCoopers would be on campus to hold an informational meeting. I really did not think much of it other than I should go and network, since I was too young to obtain an internship. After the meeting, I applied to Leadership Adventure, a two day leadership conference hosted by PwC. I interviewed and was selected to attend. Following this conference, I had an internship through which I gained real world experience during a busy accounting season, learning the roles and responsibilities of a CPA. Upon completion of my internship I was offered a full time job. Had I never read Dr. Gordon-Moore's email and networked with PwC at the informational meeting, I would never have ended up where I am now.
I am so grateful that COBI has Business Career Services, one of the best resources offered. I took full advantage of this through the interviewing process with PwC. It made it so convenient to have my interviews on campus, allowing me to be in a comfortable and familiar setting. In addition, Business Career Services provides students with feedback on how they performed during the interview, given to them from the interviewing company. These evaluations show areas of strengths and areas of improvement, and I utilized this feedback to help improve my performance.
I have nothing but positive words to say about the programs offered, the faculty, the students, and the opportunities offered to COBI students. I truly believe that UT COBI has so many resources and connections that allow students to reach their full potential. The teachers are willing to do anything to help see their students excel, whether it be extra help or assisting with networking with various professionals in the community. I have been offered some incredible opportunities because of UT COBI and I cannot thank them enough. To any students considering the College of Business and Innovation at The University of Toledo, all I have to say it is one of the best decisions I have ever made."