Steve James - Information Technology Program Participant (Eaton Corporation)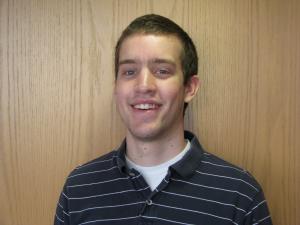 "As an Information Technology Development Program Participant at Eaton Corporation I will be responsible for communications between IT and end-users to ensure we are on schedule and that everyone understands the changes occurring with a new hydraulics quoting software being implemented at 16 locations across North and South America.  After two years I will have the opportunity to express my specific interests in IT and be placed accordingly.
COBI definitely helped me obtain my job. When I first began the interview process, I was unsure where to even begin, but soon learned I had plenty of resources around me. The Business Career Program's office staff was vital in my job search; they wanted to get to know me and what I was looking for in a career. They did a terrific job of giving my name to recruiters and getting various organizations to think about me.
I took advantage of events like power networking, mock interviews, job fairs, and etiquette dinners. These prepared me for situations in the "real world."  I also work in the COBI IT department, where I provide help desk support to faculty, staff and students. The experience not only developed my IT knowledge, but also improved my communication and problem-solving skills.
I can't emphasize enough how well the UT College of Business prepared me for my career. The professors provide such a good foundation to be successful, and my classes gave me a sense of confidence that I could go into a situation, even if I didn't know the exact task at hand, and be effective at my job.
Being awarded COBI's Pacemaker award last year was also very important. The prestigious award showed employers that I was a hardworking, dedicated individual both inside and outside the classroom.
I am most looking forward to the new challenges that come with starting a new job."