Tyler Donaldson - Production Supervisor (Johnson Controls)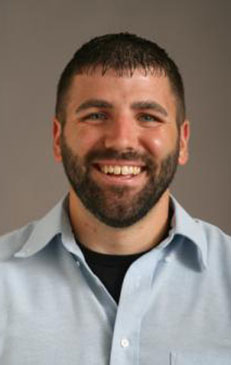 "Being a manager in a manufacturing facility has always intrigued me. I'm a hands-on person from farm country, and I like to be in the middle of things. I found my passion for manufacturing through a high school "School to Work" program through the Defiance City School system. This program enabled us to spend time in the different departments of the General Motors foundry in Defiance, as well as tour numerous other facilities in different industries, to see how the manufacturing process works in day to day operations.
After high school, I came to UT because my wife was studying nursing here. I obtained my bachelors in religious studies with an interest of one day becoming involved in a youth ministry. The plan was to obtain a dual degree in religious studies and business; but the academic advisors in the College of Business and Innovation had an alternative plan for my situation. I never would have thought about obtaining a MBA, but they encouraged me to think about it and ultimately gave me the opportunity to pursue it.
I obtained my MBA, with focuses in operations management and leadership, in December, 2012, and start at Johnson Controls in May. As a production supervisor at one of their Toledo facilities, I will be supervising a team of people and helping them to meet target goals set by corporate. I'm most excited about trying to make a difference, both personally and professionally, in the lives of the people I work with!
I cannot say thank you enough to all of the hard work and wonderful people in Business Career Programs. If it wasn't for their connections and Carol Stamm's resume mapping, I would have not received this great opportunity. I would also like to extend a notion of gratitude to the COBI professors –especially the graduate faculty; you all are wonderful and it has been my privilege to study and learn from you. Thank You All!!!"