ESL Robotics at ALI
Each semester at the American Language Institute, we serve hundreds of international students, providing tailored instruction in academic English to facilitate their studies at The University of Toledo.

In our constant drive to meet students' linguistic and cultural needs, one recent development has been the ESL Robotics program. With this 7-week, project- based course, STEM-bound students use academic English to design, build, and program a robot with the LEGO Mindstorms system.

After intensive readings in a customized, multi-touch iBooks textbook, these students give an oral presentation that hypothesizes how their robot will perform in various environments and tasks, such as navigating through a simple maze, or competing in a sumo arena. They then test their robot in these environments, and on these tasks. Finally, they reflect on the experience through writing, using their observations to inform and improve robot design for the next project.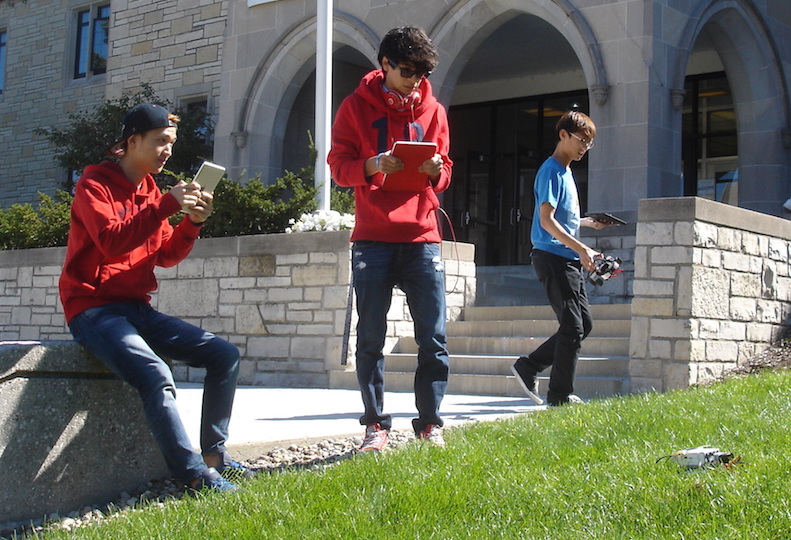 All of this is to provide these students with an experientially driven education in such concepts as mechanical engineering and computer science, and to scaffold their entry into the College of Engineering at The University of Toledo.

To that end, ESL Robotics students showcase their designs at our capstone events each term. We invite you to attend the next event via our YouTube channel, at https://www.youtube.com/user/exobotics. You can check out the builds that are happening each term at our LEGO MOCpage.

To learn more about the American Language Institute and its innovative opportunities, follow us at http://www.utoledo.edu/cisp/ali/index.html, or visit us in Snyder Memorial 1400.
American Language Institute's 5th International Robotics Competition

Videographer: Mahdi AlHazeem
For more videos from this ALI course, visit the Exobotics YouTube channel!
For more information on this program, contact Matthew Krull or Daniel Current.