Doctoral Hooding Ceremony
for doctoral candidates of The University of Toledo
What is a doctoral hooding ceremony?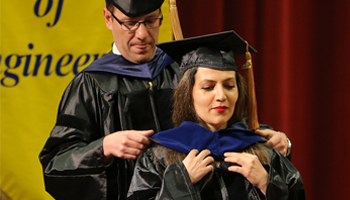 A hooding ceremony provides special recognition for doctoral degree candidates. Similar to commencement, faculty and students are dressed in academic regalia. During the ceremony, the name of each doctoral graduate is announced, and the graduate goes on stage with his or her faculty adviser(s) and/or another designated individual, who then places the doctoral hood over the head of the graduate. The graduate is then congratulated by the dean of the College of Graduate Studies and other members of the University community.
Each doctoral candidate is asked to invite a qualified individual to perform the hooding. This individual may be a faculty member who is the candidate's adviser, another faculty member of the candidate's choosing and/or a ceremonial hooder. All ceremonial hooders must hold doctoral-level degrees.
When is The University of Toledo's hooding ceremony?
This fall, The University of Toledo will hold a separate doctoral hooding ceremony for summer and fall 2017 doctoral candidates:
Saturday, December 16, 2017 • 4 p.m.
Doermann Theater, University Hall • 2601 W. Bancroft Street
Register here for the hooding ceremony
Who can participate?
All summer 2017 and fall 2017 doctoral graduates – including PhD, DNP, DPT, EdD, OTD and PharmD – are invited to participate in this recognition ceremony, but a reservation is required by Nov. 30, 2017. (If you are a doctoral candidate and did not receive an invitation with registration information, please contact Cyndee Gruden in the College of Graduate Studies.)
Participants are encouraged to invite up to four friends and family members to attend the event. Tickets will not be issued. Ample free parking will be available for attendees in UT Lot 13, adjacent to the West Ramp parking garage, and Lot 17, near the Driscoll Alumni Center.
Will degrees be conferred at the hooding ceremony?
This ceremony is in addition to fall commencement and does not replace the conferral of degrees for all degree candidates at commencement Sunday, December 17, at 10 a.m. in John F. Savage Arena. Doctoral hooding will not take place at fall commencement.