Commercialization of Technology

Promote Our Ideas
What is on the plate for today?
The EECS department is striving to create new technologies. The department is interested in investing the intellectual properties of its members in various business circles to produce new useful products.
Any new technologies which belong to EECS department members will be protected by applying for patents on those technologies through the University of Toledo. Newly invented and patented technologies are used for commercialization by providing licenses to companies. The licensee company continues the advancement of the technology and makes other business investments to develop the product or services.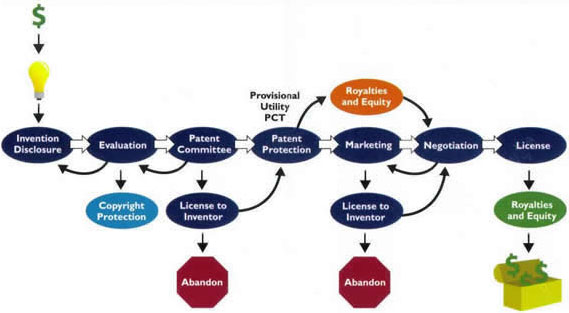 Complete Technology Transfer flow chart
The financial terms of a license for a university start-up will include the following.
Upfront license fee
Industry standard royalty rates
Milestone payments
A percentage of equity and
Reimbursement of all patent expenses
For Additional information visit Technology Transfer at University of Toledo.
Leaders in tf-Si photovoltaic technologies

Xunlight Corporation, a technology spin-off from the University of Toledo, engages in the development, manufacture, and marketing of photovoltaic modules that convert sunlight into electricity. The company develops thin-film silicon based photovoltaic products and manufacturing equipment for high-throughput production of flexible and lightweight photovoltaic modules at low cost.
Xunlight Corporation is headquartered at 3145 Nebraska Avenue in Toledo, Ohio, and works closely with the Thin Film Silicon Photovoltaic Laboratory at the University of Toledo.
For More information visit Xunlight Corporation.