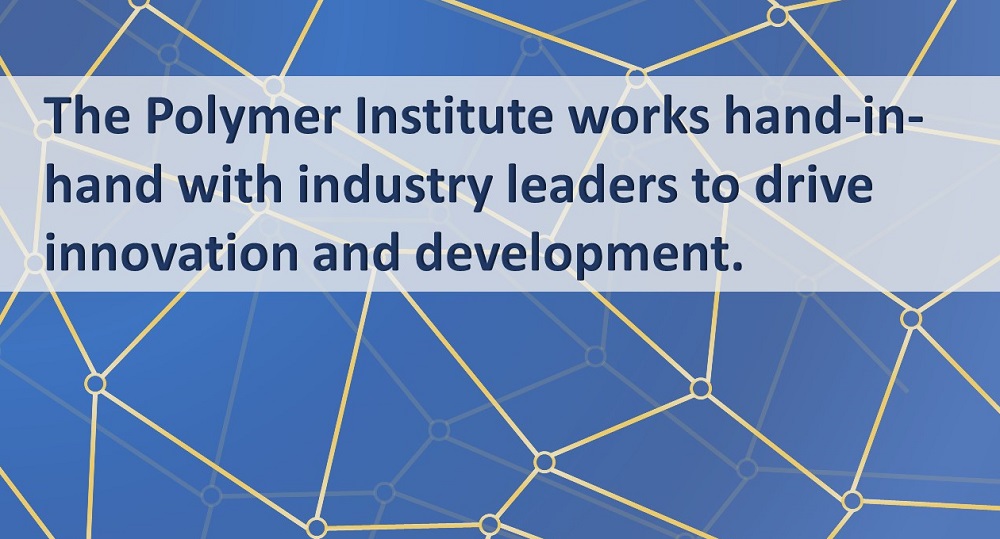 From the packaging industry to aerospace and everything in between, the Polymer Institute has aided companies, large and small, with research and development. With up-to-date facilities and knowledgeable staff, we are equipped to help you with your next project!
All contract work is carried out by full-time research personnel. Past and current graduate students working towards both a MS ChE degree and a PhD in Engineering Science have done research in the areas of bio-based monomers, chemical recycling, blends, orientation effects, property enhancement and evaluation, polymer processing and additive manufacturing. Almost all our students have taken the opportunity to publish the results of their research in recognized journals in the polymer area. Contract work, however is considered proprietary to the customer and is not published unless the customer so desires.
---
Packaging
polyesters and barrier materials consortium
Additive manufacturing/3D Printing
Content after: select and edit or delete
Content after: select and edit or delete
Packaging
The Polymer Institute continues to find the packaging industry a primary requester of our services. These requests range from simple service requests which take just a few days to long range research projects which may last a year or more. One method of categorizing our support is shown below.
Polyesters from renewably sourced monomers combined with chemical recycling leading to a circular economy continues to be the largest component of our research contributing in packaging. Mechanical, thermal, and processing characteristics are those which are usually requested. 
We do a lot of work with composite materials, particularly with blends and multilayer structures. Mixers, twin screw extruders plus the auxiliary equipment exist to support our capabilities of producing blends and analyzing the resultant materials.
Another very large contribution to the packaging industry falls into the category of experimental process evaluation. We have the experimental capability to produce samples for the lab scale production of PET/renewable polyester containers. This includes both the injection molding of the parison and the making of the container via a reheat-and-blow machine. 
Polyesters and Barrier Materials Consortium
Poly(ethylene terephthalate) PET and copolyesters have become materials of choice for many new applications in the household, chemical, electronic, automotive, food, beverage, medical, and pharmaceutical markets. That is why several of the world's largest and fastest growing national and international corporations have teamed up with the University of Toledo's Polymer Institute to explore new research possibilities as members of thePolyester and Barrier Materials Industrial Consortium.
The consortium's mission is to discover new applications as well as processing and property improvements for the versatile polyester materials. Research investigations include interrelationships among material properties, fabrication processes, and end-use performance. The research programs are carried out at the Polymer Institute, part of the University of Toledo's College of Engineering. New projects are continuously being developed with the direction of consortium members. In addition to benefiting the industrial community in terms of research, the consortium also trains young scientists and engineers in cutting edge polyester technology. Companies thus benefit from discoveries, new material applications, and also from the fresh pool of able young researchers who help to develop these results. Consortium members share in funding a core of research programs focused on renewably sourced polyesters and chemical recycling. Funds are used for conducting research and for direct support of graduate students and professional staff engaged in specific research programs at the Polymer Institute. Results are shared equally with all members through regular written reports and oral review meetings.
Interested parties can contact any of the director of the Polymer Institute for more information.
Additive manufacturing / 3d priting
The Polymer Institute works with companies to develop materials and processes for additive manufacturing. 
Composite material development is done in house for both low and high temperature materials for 3D printing, including polymers in the PEAK family. Additionally, design of experiments can be completed to optimized printing parameters for these novel materials and part designs. 
In conjunction with the manufacturing of part, performance testing can be performed to aid in the enhancement of design and material development.