Enhance Student Life
Main Campus is the center of the University's student experience. Through strategic investments, we will make the campus more attractive for on-campus residents and commuter students.
We will invest in fewer but better traditional style residence halls by renovating Parks Tower and removing Carter Hall East and West. The on-campus Greek presence will expand, with additional McComas Village houses and better village circulation and central open space.
To attract more juniors and seniors to live on campus, we will develop apartment-style housing (with ground-floor retail) on Dorr Street, adjacent to the Dorr Street Gateway.
The Student Recreation Center has been recognized as one of the best of its kind in the nation. Yet, the growth of the University's outdoor recreational sports program is limited since it must now share Carter Field with football and the marching band. We will construct our first dedicated outdoor recreational complex south of Dorr Street between Secor Road and Byrne Road, which could include a new facility for The University of Toledo Police Department and others.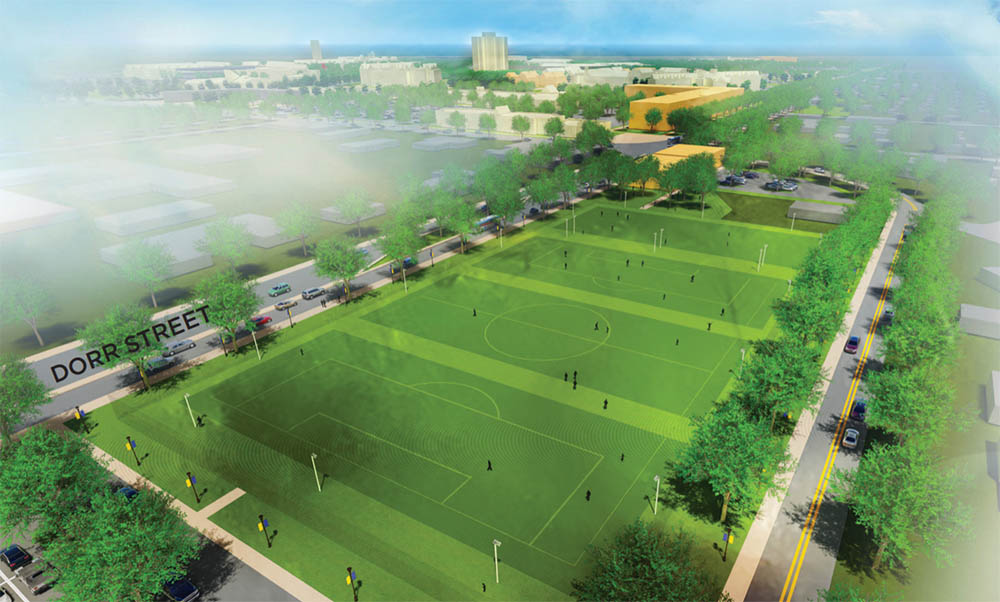 A view of a new dedicated recreational complex at Dorr Street and Secor Road, looking back toward Parks Tower.