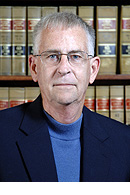 Professor Douglas K. Chapman, a faculty member since 1982, is a graduate of Ohio State University (B.S.) and Ohio Northern University (J.D.).  Professor Chapman teaches in the areas of Estate Planning, Federal Income Tax, Federal Estate & Gift Tax, and Trusts & Wills.  He has also taught Corporate Tax and Property.
Prior to joining the faculty, Professor Chapman taught at Southwestern University in Los Angeles, The University of Tulsa, and Ohio Northern University.

Professor Chapman has also taught in the Capital Law School Graduate Tax Program. Professor Chapman has served as Associate Dean for Academics and Student Affairs at Toledo, Southwestern University and Ohio Northern University.
Professor Chapman has been active in a number of professional and civic organizations including the Toledo Bar Association, Ohio State Bar Association and the A.B.A.
In addition, Professor Chapman has published in the field of Income Taxation.
Publications
Enforceability of Settlement Agreement Allocations Under Section 104(a)(2), 47 Baylor L. Rev. 97) (1995) (co-author).
Ohio 's College Savings Plan: Buyer Beware (with Roger W. Andersen), 21 U. Toledo L. Rev. 131 (Jan. 1990).
Below Market Loans: From Abuse To Misuse - A Sports Illustration (With Phillip J. Closius, 37 Case Western Res. L. Rev. 484 (1987).
No Pain - No Gain?: Should Personal Injury Damages Keep Their Tax Exempt Status, 9 Univ. Of Arkansas At Little Rock Law Journal 407 (1986-87).
Marriage Neutrality: An Old Idea Comes Of Age, 87 West Virginia L. Rev. 335 (1985).
The Subchapter S. Revision Act of 1982: A More Attractive Option for the Small Businessman (with William N. Ruud), Midwest Business Administration Association Proceedings, April 1984.