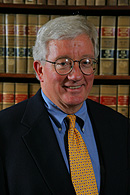 Professor Robert J. Hopperton, a faculty member since 1978, is a graduate of Baldwin-Wallace College (B.A.), The University of Toledo (M.A.) and The Ohio State University (J.D.). He is a former Acting Dean and former Associate Dean.
Prior to joining the faculty, Professor Hopperton served as Director of the Law Reform Project, Ohio State University of Law, Assistant Director of the Ohio Department of Commerce, and Chief, Ohio Consumer Protection Division. He also taught at the University of Dayton Law School.
Professor Hopperton has been active in a number of professional and civic organizations including the Toledo Bar Association, the Ohio State Bar Association, Ohio Supreme Court Committees, United Way of Northwest Ohio, Hospice of Northwest Ohio (president), the Toledo/Lucas County Plan Commission, and the Nature Conservancy.
In addition, Professor Hopperton has published in the fields of property and land use.
Publications
Books
Standards Of Judicial Review In Supreme Court Land Use Opinions: A Monograph, Austin and Winfield (1998).
Articles and Book Chapters
Legal Negotiations: Teaching and Learning Versatility, Adaptability, and Flexibility (in rough draft form). ( Work in progress)
Integrative Bargaining: The Who, What, Where, Why, When, and How (in CLE program and article outline form). ( Work in progress)
Ohio Supreme Court Regulatory Takings Jurisprudence: An Analytical Framework, 29 Capital U. L. Rev., 321 (2001).
Teaching the Rule Against Perpetuities in the First Year Property Course, 31 U. Toledo L. Rev. 55.
Understanding the Multiple Dimensions of Regulatory Takings: A Matrix, 30 U. Toledo L. Rev. 551.
Majoritarian and Counter-Majoritarian Difficulties: Democracy, Distrust, and Disclosure in American Land-Use Jurisprudence-A Response to Professors Mandelker and Tarlock, 24 B. C. Environmental Affairs L. Rev. 541 (1997).
 
Standards of Judicial Review in Supreme Court Land Use Opinions: A Taxonomy, an Analytical Framework, and a Synthesis, 51 Wash. U. J. Urban And Contemporary Law 1(1997).
 
The Presumption of Validity in American Land Use Law: A Substitute for Analysis, A Source of Significant Confusion, 23 B. C. Environmental Affairs L. Rev. 301 (1996).
 
Teaching Present and Future Interests: A Methodology for Students That Unifies Estates in Land Concepts, Structures, and Principles, 26 U. Toledo L. Rev. 609 (1995).
Chapter in Housing an Aging Society, Land Use Regulations for the Elderly, (1986).
Model Statute – Zoning for Board and Care Homes Serving the Elderly – drafted for The American Bar Association Commission on Legal Problems of the Elderly (1984).
Teaching Legislative Drafting in Law Schools: A Model Course, 19 Duquesne Law Review 43 (1981).
A State Legislative Strategy for Ending Exclusionary Zoning of Community Home, 19 Urban Law Annual 47 (1980).