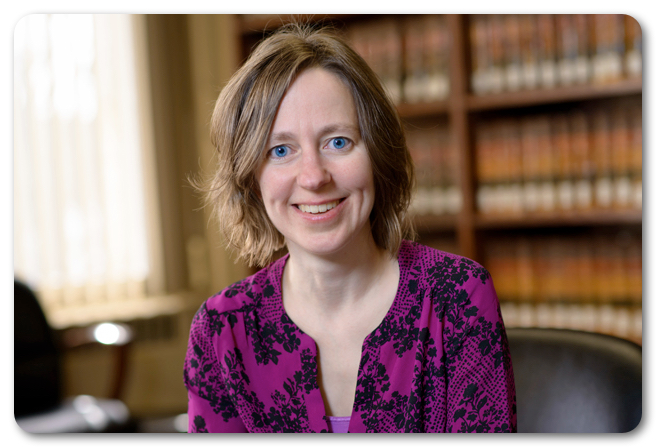 Professor Jessica Knouse joined the College of Law faculty in fall 2007. She teaches Constitutional Law I and II, Family Law, and Sexuality and Law. Her research interests include legal philosophy (specifically theories of justice, tensions between liberty and equality, and the impact of legal categories on identity) and constitutional interpretation (specifically postmodern methods and the instability of textual meaning).
Professor Knouse attended Boston University's College of Arts and Sciences, where she concentrated in Latin and English. After receiving her B.A., she served as Assistant Director of Boston University's College Honors Program. She then attended Albany Law School, where she was Production Editor of the Albany Law Review, a Dean Sponsler Honors Teaching Fellow, and valedictorian of her graduating class. After receiving her J.D., she worked as an Appellate Court Attorney for the New York State Supreme Court, Appellate Division, Third Judicial Department, and then as a Law Clerk for Justice Howard H. Dana Jr. of the Maine Supreme Judicial Court. She subsequently received an LL.M. from Yale Law School where she studied, among other things, legal philosophy, constitutional interpretation, and anti-discrimination law.
Publications
Liberty, Equality, and Parentage in the Era of Posthumous Conception, 27 J. L. & Health 9 (2014).
Reconciling Liberty and Equality in the Debate over Preimplantation Genetic Diagnosis, 2013 Utah L. Rev. 107 (2013).
Book Review: Intersexuality and the Law, by Julie Greenberg, 46 Law & Soc'y Rev. 929 (2012).
Civil Marriage: Threat to Democracy, 18 Michigan Journal of Gender & Law (2012).
Restructuring the Labor Market to Democratize the Public Forum, 39 Stetson Law Review 715 (2010).
From Identity Politics to Ideology Politics, 2009 Utah Law Review 749 (2009)
Using Postmodern Feminist Legal Theory to Interrupt the Reinscription of Sex Stereotypes through the Institution of Marriage, 16 Hastings Women's Law Journal 159 (2005).
Intersexuality and the Social Construction of Anatomical Sex, 12 Cardozo  Journal of Law & Gender 135 (2005).
Presentations
Annual Meeting of the Law & Society Association, Liberty, Equality, and Parentage in the Era of Posthumous Conception (May 2014, Minneapolis, MN)
Supreme Court Preview Panel, University of Toledo, Town of Greece v. Galloway and McCullen v. Coakley (February 2014, Toledo, OH)
Constitutional Law Colloquium, Loyola University Chicago School of Law, Liberty, Equality, and Parentage in the Era of Posthumous Conception (November 2013, Chicago, IL)
Toledo Women's Bar Association CLE on "Hot Topics in Constitutional Law," Same-Sex Marriage Litigation (May 2013, Toledo, OH)
Journal of Law and Health Symposium on "The Legal and Ethical Implications of Posthumous Reproduction," Cleveland Marshall College of Law, Mediating among Multiple Liberties in the Context of Posthumous Reproduction (March 2013, Cleveland, OH)
Central States Law Schools Association Annual Conference, Reconciling Liberty and Equality in the Debate over Preimplantation Genetic Diagnosis (October 2011, Toledo, OH)
Constitutional Law Colloquium, Loyola University Chicago Law School, Reconciling Liberty and Equality in the Debate over Preimplantation Genetic Diagnosis (October 2011, Chicago, IL)
Supreme Court Preview Panel, 2011-12 Term (October 2011, Toledo, OH)
Saint Louis University School of Law Workshop, Reconciling Liberty and Equality in the Debate over Preimplantation Genetic Diagnosis (September 2011, St. Louis, MO)
Ohio Legal Scholarship Workshop, Cleveland-Marshall College of Law Reconciling Liberty and Equality in the Debate over Preimplantation Genetic Diagnosis (June 2011, Cleveland, OH)
Midwest Family Law Consortium, Michigan State University College of Law, Civil Marriage: Threat to Democracy (June 2011, Lansing, MI)
Toledo Women's Bar Association CLE (May 2011, Toledo, OH)
Toledo Bar Association, Federal Courts Section Meeting (December 2010, Toledo, OH)
Constitutional Law Colloquium, Loyola University Chicago School of Law, Civil Marriage: Threat to Democracy (November 2010, Chicago, IL)
Faculty Exchange, Case Western Reserve University School of Law, Civil Marriage: Threat to Democracy (October 2010, Cleveland, OH)
Constitution Day Celebration, University of Toledo (September 2010, Toledo, OH)
Annual Meeting of the Law & Society Association, Civil Marriage: Threat to Democracy (May 2010, Chicago, IL)
Faculty Exchange with Indiana University School of Law, Restructuring the Labor Market to Democratize the Public Forum (February 2010, Indianapolis, IN)
AALS New Law Professors Panel, Restructuring the Labor Market to Democratize the Public Forum (January 2010, New Orleans, LA)
Works in Progress
Mandatory Ultrasounds and the Precession of Simulacra
Mitigating Law's Regressive Nature through Evolutive Interpretation