/law/faculty/
Faculty
/
Contact Us
Law Academic Affairs Office
Office Address:
Law Center
1825 W. Rocket Dr., Ste. 2000
Mailing Address:
2801 W. Bancroft, MS 507
Toledo, OH 43606
419.530.5597
Kenneth.Kilbert@utoledo.edu
Katherine Raup O'Connell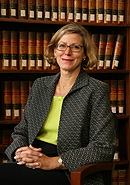 Assistant Dean of Student Affairs and Legal Writing Professor
Office: LC 2000C
Campus Phone: 419.530.2964 or 419.530.2937
Fax Number: 419.530.4526
Email: Kate.OConnell@utoledo.edu
Secretary: Mary Lynn Valdes-Dapena; 419.530.2882, Suite 2000

Katherine Raup O'Connell joined the College of Law faculty in 2005 and teaches Legal Research, Writing and Appellate Advocacy I & II. Ms. O'Connell is a graduate of Wittenberg University, B.A. English, cum laude, 1979, and The Ohio State University College of Law, J.D., 1984.
Prior to joining the College of Law faculty, Ms. O'Connell practiced law for over 20 years. From 1984 to 1987, she was an associate at Peck, Shaffer & Williams, a law firm specializing in tax-exempt finance. From 1988 to 1991, she was an associate at the Toledo law firm Cooper & Walinski. From 1991 to 2006 she was affiliated with the Toledo law firm Stockwell & Cooperman, as a partner from 1991 to 1997, where she practiced in the areas of real estate, general business and corporate law.
Ms. O'Connell is a member of Council in the Village of Ottawa Hills and chairs its Services & Environment Committee. Since 1997, she has also served on the Ottawa Hills Planning and Zoning Commission.
Publications
Can Ohio Avoid the Wake of MITE: An Analysis of the Constitutionality of the Ohio Control Share Acquisition Act, 46 Ohio State Law Journal 203 (1985)