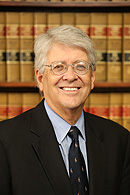 Associate Professor Robin M. Kennedy, a faculty member since 1973, is a graduate of the University of Notre Dame (AB) and Case Western Reserve University (JD), is Director of the Criminal Law Practice Program and is Director of the Reinberger Program in Prosecution.  He is admitted to the bar in Ohio and Florida.
Prior to joining the faculty, Professor Kennedy was an attorney in charge of the Hospital Legal Services Project of the Cleveland Legal Aid Society and a staff attorney for the Cleveland Legal Aid Society.
Professor Kennedy has been active in a number of professional and civic organizations including the Supreme Court of Ohio Commission on Professionalism (former Vice-Chair); Ohio State Bar Association Family Law Specialization Board; Toledo Bar Association Law Tuesday Pro Bono Program; Unison Behavioral Health Board of Trustees (former President); Ohio Department of Mental Health Ethical Review Committee; Ohio State Bar Association CLE Advisory Committee.
Professor Kennedy teaches the Prosecutor Clinic, Administrative Law, Family Law, Mental Health Law, and Interviewing and Counseling. In addition, Professor Kennedy has published in the fields of alternative dispute resolution and clinical training.
Publications
Arbitration in Domestic Relations, 13 Ohio Lawyer 18 (1999) [with Ron L. Rimelspach].
Alternative Dispute Resolution, 5A Ohio Jurisprudence 3 rd Ed. (1997) [with James Klein, Elizabeth Guerra, Gabriel Davis].
Mediating Status Offender Cases: A Successful Approach, 13 MEDIATION QUARTERLY 243 (1996) [with Deborah Mostaghel and Stephen Ripps].
Clinical Law in the Area of Mental Health, 1979 Wisc. L. Rev. 373 [with David Lowry].
Review of B.Ennis, Prisoners of Psychiatry, 22 Cleve. St. L. J. 604 (1973).