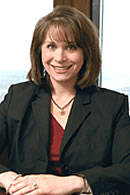 Maria Limbert Markakis
Lecturer in Law
E-mail: mlmarkakis@day-Ketterer.com
Maria Limbert Markakis serves as chair of Day Ketterer's Education Law Practice Group, concentrating her practice in the areas of general education law, special education law and related litigation.  She teaches Education Law as an adjunct professor at Toledo Law.
Her practice involves assisting clients with drafting and implementing school policies and codes of conduct; advising clients on student discipline issues and conducting student discipline hearings; advising clients on compliance with busses and bussing and school transportation laws; advising clients on issues regarding student enrollment, including residency, admission, custody, transfers and tuition; advising clients on issues arising under the No Child Left Behind Act (school report cards, adequate yearly progress and school improvement status), the Family Educational Rights and Privacy Act, Ohio Open Meetings Law and Ohio Public Records Act.
Her special education law practice involves advising clients on issues arising under the Individuals with Disabilities in Education Act, the Americans With Disabilities Act and Section 504 of the Rehabilitation Act. She also trains school staff on special education laws, attends IEP meetings and mediation sessions, represents clients in due process hearings and files and responds to special education complaints. In 2000, she received her law degree from The Ohio State University Moritz College of Law. While at the College of Law, she was selected to spend a semester studying at the University of Oxford in Oxford, England. In 1997, she received her bachelor of science degree in accounting (honors) from The Ohio State University, where she received the College of Business Pace Setter Award, which is awarded to the top 2% of College of Business students. In 2007, she was selected as an Ohio Rising Star Super Lawyer, which is awarded to the top 2.5% of lawyers in Ohio under the age of 40.