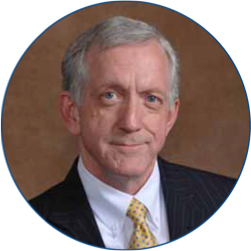 Scott Hamner
Lecturer in Law
Email:
shamner@findleydavies.com
Scott Hamner is of counsel with Eastman & Smith LTD. He teaches Pension & Employee Benefits at Toledo Law.
Scott has more than 38 years of experience in tax and employee benefit matters, including fiduciary responsibilities, qualified retirement plan non-discrimination testing, health and welfare plan non-discrimination testing, Affordable Care Act mandates, HIPAA compliance, compliance with the non-qualified deferred compensation rules of IRC §409A, and COBRA/health care continuation requirements. He designs and implements qualified retirement plans, incentive and executive compensation, non-qualified deferred compensation, and flexible benefits plans. He also handles IRS and Department of Labor audits, drafts and edits HIPAA business associates agreements, and negotiates and revises vendor and service contracts.
Scott earned his Master of Law in Taxation from Wayne State University, his J.D. from the University of Toledo College of Law, and his B.B.A from the University of Cincinnati.  He is also a Certified Public Accountant.