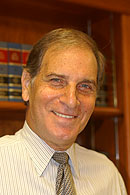 Norman G. Zemmelman
Lecturer in Law
E-mail: NZemme@co.lucas.oh.us
Phone: 419.213.6827
Norman G. Zemmelman was elected as judge of the Lucas County Domestic Relations Court in 1996 and re-elected in 2002 and 2008. 
Before his election to the bench, he was a partner with Britz and Zemmelman, in Toledo, Ohio, where his practice consisted of general civil and criminal trial work, appellate experience in both federal and state courts, and a focus in the areas of criminal, negligence, constitutional, equal opportunity, and wrongful discharge law. 
Judge Zemmelman has served on the Lucas County Board of County Commissioners, Lucas County Metropolitan Housing Authority, and Sixth Circuit Federal Judicial Conference. In 2009, he was elected a Science and Technology Fellow in the Advanced Science and Technology Adjudication Resource Center (ASTAR).
Judge Zemmelman is a graduate of Long Island University and The University of Toledo College of Law. Following law school, he served as law clerk to Judge Don J. Young of the United States District Court for the Northern District of Ohio.
Judge Zemmelman teaches Ohio Domestic Relations Law.