Professor Shelley Cavalieri Wins Fulbright Grant to Research Women's Housing Advocacy in Ecuador
May 2, 2018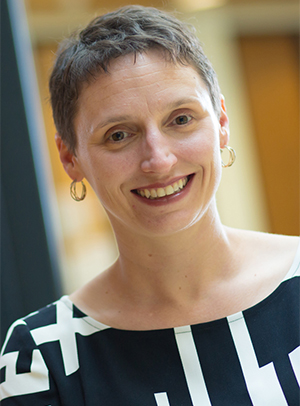 Shelley Cavalieri, associate professor of law at The University of Toledo, was awarded a prestigious Fulbright grant to conduct research on women's housing advocacy in Quito, Ecuador. Cavalieri will teach law courses in gender theory, housing and health, and clinical legal education at the Universidad de San Francisco de Quito.
Gender and housing are crucial issues in Ecuador due to an extreme gender pay gap, rapid urbanization, and the inadequacy of housing. Cavalieri proposes using socio-legal methods to conduct her research—working closely with citizen activists, NGOs, local academic experts, and government officials.
"The housing issues that are central to my Fulbright proposal are rooted in the same questions of citizen engagement in and government response to the problems of urban life that form my research at home," said Professor Cavalieri. "My Toledo experiences will shape my research in Quito, and my time in Ecuador will enrich my work in Toledo."
Cavalieri currently teaches property law at the university. She is a leading expert on human trafficking, land reform, and land banking. Her research focuses on feminist legal theory and economic, social, and cultural rights. Cavalieri is a graduate of the University of Virginia (BA in bioethics) and the University of California, Berkeley (JD). 
"Being selected for a Fulbright is one of the highest honors that an academic can achieve," said Dean D. Benjamin Barros. "During her Fulbright, Professor Cavalieri will be doing important research on the impact of women's advocacy in improving housing access and quality. She also will be a wonderful ambassador for the College of Law and the university."
Recipients of Fulbright awards are selected on the basis of academic and professional achievement, as well as record of service and leadership potential in their respective fields. Cavalieri will spend the 2018-2019 academic year in Ecuador. She is one of only a handful of law professors at the university to receive this honor.
The Fulbright Scholar Program offers grants to American faculty, administrators, and professionals to teach and conduct research abroad. The program is sponsored by the United States Department of State's Bureau of Educational and Cultural Affairs and administered by the Center for International Studies & Programs at The University of Toledo.