Resident National Awards and Honors
NATIONAL AWARDS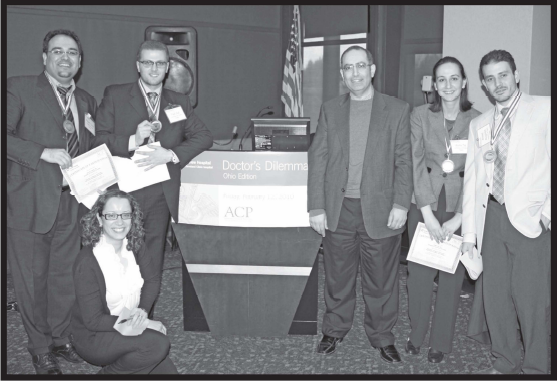 1st Runner -Up among 17 Ohio Internal Medicine Programs,
 Ohio ACP Doctors Dilemma 2010
 

 

 

 

 

The Associate Council of the Ohio Chapter of the American College of Physicians held its annual Doctor's Dilemma competition on February 12, 2010. Hosted by Fairview Hospital, a Cleveland Clinic hospital, the event was jointly funded through the gracious support of the Ohio Chapter of the ACP and the Fairview Hospital Internal Medicine Residency Program, directed by K.V. Gopalkrishna, MD, FACP, FIDSA. The current Ohio Chapter Governor, Mark Mayer, M.D., FACP, attended and endorsed the competition.

 

The program participants included seventeen of the Ohio Internal Medicine residencies, including Akron General Medical Center, Christ Hospital, Cleveland Clinic Foundation, Fairview Hospital, Huron Hospital, Mercy St. Vincent Medical Center, Metro Health Medical Center, Mount Carmel Health System, The Ohio State University, Riverside Methodist Hospital, St. Elizabeth Health Center, St. Vincent Charity Medical Center, Summa Health System, University of Cincinnati, University Hospitals Case Medical Center, University of Toledo and Wright State University.

 

Three preliminary elimination rounds narrowed the 17 programs to a final round of six competing teams, including the reigning champions, University of Cincinnati, The Ohio State University, Riverside Methodist Hospital, Fairview Hospital, Huron Hospital, and University of Toledo. After an exhilarating series of single, double, and final medical jeopardy, the winning team by a confident margin was Fairview Hospital. After the final jeopardy, the standings were:

 

Fairview Hospital

University of Toledo

(Tie) University of Cincinnati, Ohio State, Riverside

Huron

 
 
 American College of Physicians Awards
Toronto Canada
Asma Taj
 ACP national abstract competition Toronto 2010 winner - Dr. Taj's abstract was ranked in the top 10 for the Clinical Vignette category.
 Iatrogenic immunodeficiency associated Plasmablastic lymphoma of colon in a HIV negative patient. The ACP received 1, 856 Clinical Vignette abstracts. "Winner, 2010 National Clinical Vignette Abstract Competition".
 Free registration, and $500.
Baskar Hemlata 
The Unusual Suspect" has been selected by the Abstract Review Board for presentation as a poster finalist and will be judged on-site at Internal Medicine 2010 in Toronto, Canada.
Jagannath Saikumar 
Winner of the Clinical Vignette Competition.-Abstract submission to ACP National Conference, Toronto, Canada. April 2010. 2009 Reversible Neuropathy after Chemotherapy for Metastatic Adenocarcinoma from an Unknown Primary Tumor to the Sural Nerve-a case review.
Ghose AI, Tariq Zl, Taj A, Chaudhary R.5 Acute Dyspnea from Bortezomib IN AL Amyloidosis. ACP National Conference at Toronto, Canada.