Worth Lab Homepage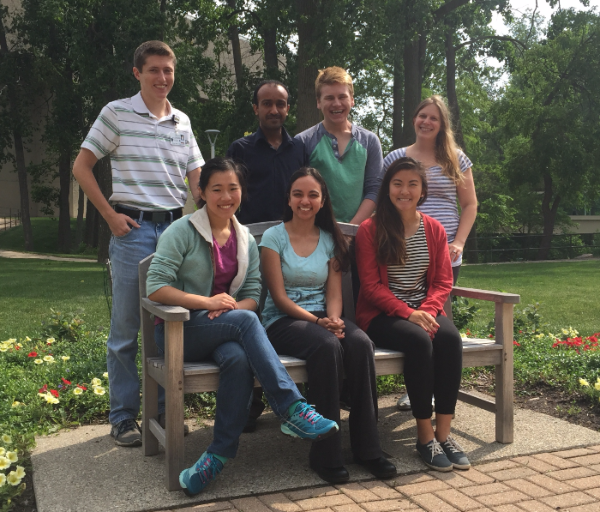 Our lab is interested in the inflammatory role of platelets and the interface between inflammation and thrombosis. We currently have projects directed at the role of platelets in Systemic Lupus Erythematosus (SLE) which involves analyzing clinical specimens and performing functional platelet assays. Other projects in the lab involve understanding the interaction of platelets with pathogenic bacteria and viruses.
 Dr. Worth has trained graduate students (Ph.D., MS), medical students and post-doctoral fellows who have all gone on to excellent positions in their respective fields.
Current Members:
Post-doctoral fellows:
Ramadan Ali, Ph.D.
Leah Wuescher, Ph.D.
Medical Students:
Priyanka Garg - Pre-MS1
Tess Gao - Pre-MS1
Brent R. Keeley - MS3
Glenn R. Westphal - MS3
Brian E. Tasma - MS4 - Internal Medicine resident - University of Toledo Medical Center, Toledo, OH
Holly J. Boardman - MS4 - Pediatrics resident - Children's Hospital of the King's Daughters (Eastern Virginia Med Sc.), Norfolk, VA
Undergraduate Students:
Keith Dona - Case Western Reserve University
Luke Bushrow - Ohio State University
Lab Alumni:
Graduate Students:
Joshua Vieth - Ph.D. 2010 - Position after graduation - Post-doctoral fellow, Dept. of Pediatrics, Child Health Institute of New Jersey.
Elizabeth Beil - M.D./M.S. 2012 - Position after graduation - Emergency Medicine resident, Geisinger Medical Center, Danville, PA
Medical Students:
Erin Schnakel - M.D. 2010 - Position after graduation - OB-Gyn resident - Riverside Methodist Hospital, Columbus, OH
Steven R. Gay - M.D. 2011 - Position after graduation - Internal medicine resident, University Hospital, Cincinnati, OH
Adam J. Antczak - M.D./M.B.A 2012 - Deceased June 18, 2012 - Position after graduation - Emergency Medicine resident, William Beaumont Hospital, Royal Oak, MI
Elizabeth Beil - M.D./M.S. 2012 - Position after graduation - Emergency Medicine resident, Geisinger Medical Center, Danville, PA
Brittany C. Heflin - M.D. 2013 - Position after graduation - Emergency Medicine resident, NEOMED/Akron General Hospital, Akron, OH
Mark D. Berlacher - M.D. 2014 - Position after graduation - Internal Medicine Resident, Indiana University Hospital, Indianapolis, IN
Anum H. Riaz - M.D. 2014 - Position after graduation - Neurology Resident, Case Western Reserve University Hospitals, Cleveland, OH