Kenneth L. Muldrew, M.D., M.P.H., F.C.A.P.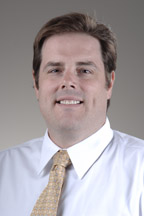 Assistant Professor
University of Toledo Health Sciences Campus
Department of Pathology, MS #1090
3000 Arlington Avenue
Toledo, Ohio 43614-2598
Phone:  419-383-6444
Fax:  419-383-3066
E-mail:  kenneth.muldrew@utoledo.edu
Medical Education and Training:
M.P.H., University of Texas Health Science Center (Houston)
M.D., University of Texas Medical Branch (Galveston)
Internship in Internal Medicine, University of Arkansas for the Medical Sciences
Research Fellowship in Pharmacology and Toxicology, University of Arkansas for Medical Sciences
Residency in Anatomic and Clinical Pathology, Vanderbilt University Medical Center
Fellowship in Medical Microbiology, Yale University School of Medicine
Clinical Research Fellowship in Infectious Diseases, Yale University School of Medicine
Fellowship in Molecular Genetic Pathology, University of North Carolina at Chapel Hill
Board Certification:
Primary Clinical and Educational Responsibility:
Clinical Consultative Services:
Professional Service:
Cancer Committee
Infection Control Committee
College of Medicine Council
Pathology Research Committee
Research and Clinical Interests:
Our Molecular diagnostics laboratory focuses on the development and implementation of cutting-edge molecular diagnostic tests. Molecular pathology is the fastest growing area in pathology and is at the forefront of Medicine in diseases such as cancer.  At the interface between clinical medicine and the basic science of molecular biology, we strive to use advancing technology and research discoveries to develop diagnostic tests that can improve the care of our patients.  We have a particular interest in Collaborating with cancer and genetics researchers who need the services of next-generation sequencing.  This technique provides very large quantities of sequence data that can then be applied to investigations of particular mutations in individual tumor types that are predictive of disease and response to therapies.  Discovering these molecular mechanisms will allow for much more individualized therapy and better cancer care.  This technology will also allow for investigation of the molecular genetics of diseases such as Alzheimer's disease and Autism. 
Publications:
 Muldrew KL and Lovett JL.  An In-House Assay for BK Polyomavirus Quantification Using the Abbott m2000 RealTime System. J Med Microbiol. 2013.  (In Press)
Wilkers M, Schall HE, Hayes DN, Patrick R,  Bastien R, Mullins M, Xiaoying Y, Miller R,  Thorne L, Geiersbach, Muldrew KL, Funkhouser W, Fan C,  Hayward M,  Bayer S, Perou C, Bernard P.  Prediction of lung cancer histological types by qRT-PCR gene expression in FFPE specimens J Mol Diagn. 2013 Jul;15(4):485-97.
Walter V, Yin X, Wilkerson MD, Cabanski CR, Zhao N, Du Y, Ang MK, Hayward MC, Salazar AH, Hoadley KA, Fritchie K, Sailey CG, Weissler MC, Shockley WW, ZanationAM, Hackman T, Thorne LB, Funkhouser WD, Muldrew KL, Olshan AF, Randell SH,Wright FA, Shores CG, Hayes DN. Molecular subtypes in head and neck cancer exhibit distinct patterns of chromosomal gain and loss of canonical cancer genes. PLoS One. 2013; 8(2):e56823.
Zhao N, Ang MK, Yin XY, Patel MR, Fritchie K, Thorne L, Muldrew KL, Hayward MC, Sun W, Wilkerson MD, Chera BS, Hackman T, Zanation AM, Grilley-Olson JE, Couch ME, Shockley WW, Weissler MC, Shores CG, Funkhouser WK, Olshan AF, Hayes DN. Different cellular p16(INK4a) localisation may signal different survival outcomes in head and neck cancer. Br J Cancer. 2012 Jul 24;107(3):482-90.
Muldrew KL and Weck KE.  Pharmacogenetic Testing For CYP4502c19 variants to Detect Resistance To Clopidogrel in "Molecular Pathology in Practice".  2011, Schriver I, Editor.  Springer Publishing, Philadelphia, PA.
Muldrew KL and Tang YW.  Diagnostic Microbiology in "Molecular Aspects of Infectious Diseases" First edition, 2010. Mazen T. Saleh, ed., Nova Science Publishers, Inc., Hauppauge, NY. 
Das R, Muldrew KL, Posligua WE, Boyce JM. Cryptococcal retropharyngeal abscess. Travel Med Infect Dis. 2010 Sep;8(5):322-5.
Wilkerson MD, Yin X, Hoadley KA, Liu Y, Hayward MC, Cabanski CR, Muldrew KL,  Miller CR, Randell SH, Socinski MA, Parsons AM, Funkhouser WK, Lee CB, Roberts P, Thorne L, Bernard PS, Perou CM, Hayes DN. Lung squamous cell carcinoma mRNA expression subtypes are reproducible, clinically-important and correspond to different normal cell types.  Clin Cancer Res. 2010 Oct 1;16(19):4864-75.
Kilic A, Muldrew KL, Tang YW, Basustaoglu AC. Triplex real-time polymerase chain reaction assay for simultaneous detection of Staphylococcus aureus and coagulase-negative staphylococci and determination of methicillin resistance directly from positive blood culture bottles. Diagn Microbiol Infect Dis. 2010 Apr;66(4):349-55.
Muldrew KL.  Molecular Diagnostics of Infectious Diseases.  Curr Opin Pediatr. 2009; 21(1):102-11.
Muldrew KL, Edberg SC.  Growth of Adenocarcinoma on Routine Microbiological Media from a Pleural Effusion in an 82 year-old Female.  J Clin Microbiol. 2009;47(4):1255-8.
Faculty Reviewer.  Chapter 1: Cellular Anatomy and Histology.  First Aid for the Basic Sciences: General Principles.  2009.  Le T and Kendall Krause, eds., McGraw-Hill Companies, Inc.
Contributor. American Academy of Pediatrics. Mycoplasma pneumoniae and Other Mycoplasma Species Infections. pp.473-475, In Pikering LK, Baker, CJ, Kimberlin DW, Long SS, eds. Red Book: 2009 Report of the Committee on Infectious Diseases. 28th ed. Elk Grove Village, IL: American Academy of Pediatrics;2009:[473-475] 
Muldrew KL, Tang YW, Li H, and Stratton CW.  Clonal Dissemination of Staphylococcus epidermidis on an Oncology Ward.  J Clin Microbiol., 2008; 46(10):3391-6.
ManickamN, Knorr A, and Muldrew KL.  Neonatal meningoencephalitis caused by Bacillus cereus. Pediatr Infect Dis J. 2008; 27(9):843-6.
Murray TS*, Muldrew KL*, Finkelstein R, Hampton L, Edberg SC, and Cappello M.  Acute pyelonephritis caused by Aerococcus urinae in a twelve year old boy.  Pediatr Infect Dis J. 2008; 27(8):760-2.  *Equal Contribution
Muldrew KL and Edberg SC.  Group B streptococcus Screening test in Obstetrical Patients.  Lab News, Yale-New Haven Hospital.  2008; 46(1):1. 
Muldrew KL and Edberg SC.  Testing for Helicobater Pylori.  Lab News, Yale-New Haven Hospital.  2008; 45(1): 5-7.      
Muldrew KL, Miller R, Kressin M, Tang YW, and Stratton CW. Necrotizing Fasciitis from Vibrio vulnificus in a Patient with Undiagnosed Hepatitis and Cirrhosis.  J. Clin. Microbiol. 2007; 45(3):1058-62.
Muldrew KL, Beqaj SH, Han J, Lum SH, Clinard V, Schultenover SJ, and Tang YW.  Evaluation of a Digene recommended algorithm for human papillomavirus low positive results present in a "retest zone". Am. J. Clin. Pathol. 2007; 127(1):97-102.
Muldrew KL, Simpson JF, Stratton CW, and Tang YW.   Molecular Diagnosis of Necrotizing Fasciitis by 16S rRNA Gene Sequencing and Superantigen Gene Detection.  J Mol Diagn. 2005; 7(5): 641-5.
Muldrew KL, James LP, Coop L, McCullough SS, Hendrickson HP, Hinson JA, and Mayeux PR.  Determination of acetaminophen-protein adducts in mouse liver and serum and human serum after hepatotoxic doses of acetaminophen using high-performance liquid chromatography with electrochemical detection.  Drug Metabolism & Disposition 2002; 30 (4): 446-51.
Walker LM, York JL, Imam SZ, Ali SF,Muldrew KL, and Mayeux PR.  Oxidative stress and reactive nitrogen species generation during renal ischemia.  Toxicological Sciences 2001;3: 143-8.