Commencement Speaker 2017
Watch the speech: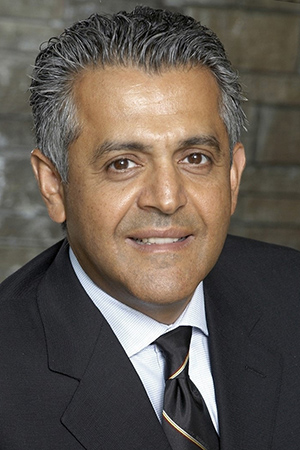 We are proud to announce that Dr. Mehran Anvari will serve as the commencement speaker for the College of Medicine and Life Sciences ceremony on May 26 and will also be awarded an honorary degree (honoris causa) of doctor of science.
Dr. Mehran Anvari was selected by a committee of medical students and faculty from a national pool in recognition of his international stature as an exceptional physician in minimally invasive surgery. Dean Christopher J. Cooper, M.D., formally nominated Dr. Anvari, and he was approved by Provost Andrew Hsu, Ph.D., and the Board of Trustees.
A tenured professor of surgery and Chair of Minimally Invasive Surgery and Surgical Innovation at McMaster University in Hamilton, Ontario, Dr. Anvari was one of the first surgeons in Canada to use robotics in surgery. In 2003, he established the world's first telerobotic surgical service linking St. Joseph's Healthcare Hamilton with North Bay General, a community hospital more than 250 miles away.
He is the founding director of both the McMaster Institute for Surgical Invention, Innovation and Education and the Centre for Minimal Access Surgery (CMAS), which Time Magazine described as "sculpting the next frontier of medicine."
CMAS was first of its kind in Canada and trained more than 1,200 surgeons through 87 CME programs under Dr. Anvari's direction. While there, he promoted the use of minimal access techniques in all surgical specialties and focused on improving patient outcomes, minimizing the physical, emotional and financial impact of surgical procedures on patients and reducing hospital admissions and the associated costs.
Dr. Anvari is also Scientific Director and CEO of the Centre for Surgical Invention and Innovation (CSii), affiliated with McMaster University and St. Joseph's Healthcare Hamilton. Under his leadership as CEO of CSii, Dr. Anvari saw the organization become a leader in the development and commercialization of an innovative class of medical robotic platforms and minimally invasive tools. CSii has successfully developed and manufactured a clinical system designed for early detection and treatment of breast cancer in high-risk women.
Dr. Anvari is the Editor-in-Chief of the International Journal of Medical Robotics and Computer-Assisted Surgery, an Adjunct Scientist with the Institute for Clinical Evaluative Sciences (ICES) and the Clinical Lead and Chair of the Ontario Bariatric Network.
He was the Chief Scientific Officer for the NASA Extreme Environment Mission Operations (NEEMO) 7 mission in 2004 and NEEMO 9 in 2006. Both were joint projects of McMaster University, the Canadian Space Agency and NASA that were tasked with testing the ability of new robotic and telesurgical technology to allow a non-physician to perform assisted surgery in a contained environment that simulates conditions in space.
Dr. Anvari is the recipient of the 2009-2010 ORION Award for Leadership, was awarded the Government of Ontario Diamond Award for Innovation in Technology, the Government of Canada Gold Medal of Distinction for Telerobotic Surgery, the McMaster Innovator of the Year Award in 2009, and the NASA-International Space Station (ISS) Research and Development Award for Biology and Medicine in 2015.
Dr. Anvari will address graduates at the commencement ceremony Friday, May 26, at 2 p.m. at Stranahan Theater.