Commencement Speaker 2018
Commencement Speaker Archive: 2017 | 2016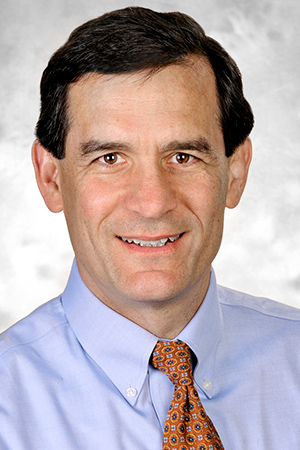 We are proud to announce that Josiah D. Rich, M.D., MPH, will serve as the commencement speaker for the College of Medicine and Life Sciences ceremony on May 25 and will also be awarded an honorary degree (honoris causa) of doctor of science.
Dr. Rich was selected by a committee of medical students and faculty from a national pool in recognition of his outstanding scientific accomplishments, his efforts to improve health care and his work related to addiction, especially as it relates to the national opiate epidemic. Dean Christopher J. Cooper, M.D., formally nominated Dr. Rich, and he was approved by Provost Andrew Hsu, President Sharon Gaber, and the Board of Trustees.
A Professor of Medicine and Epidemiology at The Warren Alpert Medical School of Brown University, Dr. Rich is also a practicing Infectious Disease Specialist at The Miriam Hospital and at the Rhode Island Department of Corrections, caring for prisoners with HIV Infection and other Diseases since 1994.
Dr. Rich has extensive expertise in the care and prevention of disease in addicted and incarcerated individuals. This combined clinical experience has given him a unique vantage point from which to understand at a deep level the challenges, as well as, the opportunities that the incarcerated setting offers. This has informed and driven his research career, which has focused on the diagnosis, treatment, and prevention of HIV/AIDS and Co-Morbid conditions, especially among incarcerated and addicted populations. 
Currently, Dr. Rich is the Principal Investigator on grants all focused on incarcerated or disadvantaged populations. He has had continuous federal research funding for more than two decades and has published nearly 200 peer-reviewed publications, predominantly in the overlap between Infectious Diseases, Addictions, and Incarceration.
He is the Director and Co-Founder of The Center for Prisoner Health and Human Rights at The Miriam Hospital. He is also the Co-Founder of the Nationwide Centers for AIDS Research (CFAR) collaboration in HIV in Corrections (CFAR/CHIC) initiative. Dr. Rich has advocated for public health policy changes to improve the health of people with addiction, including improving legal access to sterile syringes and increasing drug treatment for the incarcerated and the formerly incarcerated populations.
In 2015, Dr. Rich was appointed by Rhode Island's Governor Gina Raimondo, as an expert adviser to the Overdose Prevention and Intervention Task Force, charged with formulating a strategic plan to address addiction and stop overdose deaths in Rhode Island.  He has also served as an expert for the National Academy of Sciences, The Institute of Medicine and many others.
Dr. Rich obtained a Bachelor of Arts degree in Chemistry at Columbia University in New York, attended a year at Harvard University in the Division of Medical Sciences' Cell and Developmental Biology program, completed his medical degree at the University of Massachusetts Medical School in Worcester, Mass., and his Master of Public Health from Harvard School of Public Health in Boston. This was followed by an internship and residency in Internal Medicine at Emory University Affiliated Hospitals in Atlanta, a fellowship in HIV/AIDS at the Brigham and Women's Hospital in Boston and a fellowship in Infectious Disease from Harvard Medical School Combined Infectious Disease Training Program.
Dr. Rich will address graduates at the commencement ceremony Friday, May 25, at 2 p.m. at Stranahan Theater.