Tungsten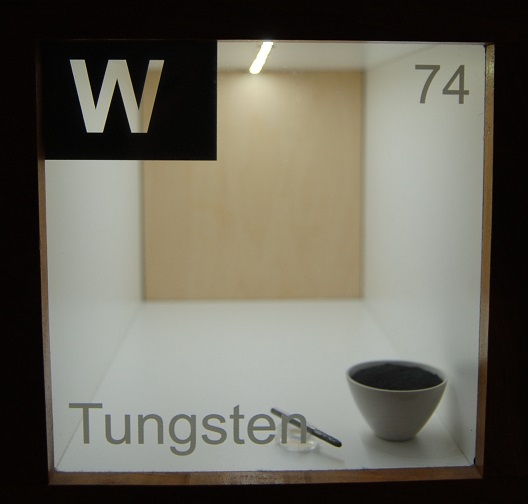 Contributor: Be the contributor for this element!
About the Display: This display features:
Tungsten powder (donated by Proto Manufacturing, Inc.) - This powder is incorporated into materials, such as putty or polymers, to make them better radiation shields. The tungsten-enriched material is then placed around an x-ray tube or instrument casing to prevent x-rays from penetrating.
Tungsten drill bit 
About the Contributor: About Proto Manufacturing, Inc.: Since its founding in 1967, PROTO Manufacturing has been involved in the development of instrumentation for the characterization for materials. Their x-ray diffraction expertise was established through the application of residual stress and retained austenite measurements and systems. This expertise has since expanded into Laue single-crystal orientation and powder diffractometers, as well as x-ray tubes and custom equipment. For over 30 years PROTO has provided solutions for laboratory, factory, and field environments. These state-of-the-art solutions have served a variety of industries including aerospace, automotive, medical, defense, and other high-tech industries. More information about Proto can be found at http://protoxrd.com/.
Back to the Periodic Table
Symbol: W
Atomic Number: 74
Atomic Mass:
Electron Configuration:
Year Discovered:
Discovered By: