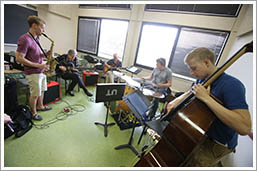 Summer at The University of Toledo
Summer classes at The University of Toledo give current, new and guest students an opportunity to stay on track to graduate, travel abroad, or enhance professional skills.
Get Started
Additional Summer Learning Experiences
Get Connected
Contact Us
Rocket Hall, Suite 1300
Mail Stop 338
Toledo, OH 43606
419.530.8888
800.5TOLEDO
Office Hours
Monday - Friday
8:15 am - 5:00 pm
*Evening appt. available
*Sat. visit opportunities


enroll@utoledo.edu
Heading back? Get ahead.
If you are going back home for the summer, take online courses at UT and get ahead in fulfilling your course requirements.

There are hundreds of courses offered at all levels; and since you are taking the classes from UT, there are no worries about transferring your credit.

View the list of course.
Home for the summer? Be our guest at UT.
If you are home for the summer, we would love to have you as our guest at UT. There are many UT courses available on campus and online that you can transfer back to your college.

Learn about being a guest student at UT.
Summer session dates
Twelve week session
May 12 - August 1, 2014

Eight week session
June 9 - August 1, 2014

Six week sessions
Session I: May 12 - June 20, 2014
Session II: June 23 - August 1, 2014

Need help registering for courses? Visit the Registrar Office.