STUDENT SERVICES AND ACADEMIC ADVISING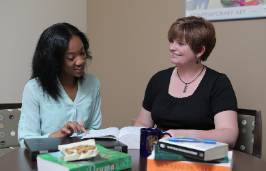 The relationship between adviser and advisee is one of shared responsibility, although the ultimate responsibility for making personal and educational decisions rests with you. Your potential for academic success can improve considerably through relationships with advisers, who can provide assistance in identifying educational options and enhancing student potential. 
When you should see your adviser:
at least once a semester to pick classes toward the next term
if problems arise in successfully completing coursework
before adding/dropping/or withdrawing from classes
if you will be taking classes over the summer elsewhere
if you have a questions about majors, program requirements, commencement, program review, UT etc.
APPTS:

Appointments must be scheduled for Change of Major or College, Reinstatement, Program Review, and Graduation Evaluation

Location:

Rocket Hall 1300, Main Campus-Student Services and Advising Office

Hours:

M-F 8:15 a.m. - 5:00 p.m.
*In order to provide the best service, appointments are required Monday-Friday, except for Walk-in Wednesdays, which advising is available from 9:00-11:00 a.m. and 1:00-4:00 p.m. An appointment is required for change of major or college, reinstatement, program review, and graduation evaluation.

Walk-in Wednesdays:

Need assistance with course scheduling for Spring 2018 semester?

Walk-in Wednesday advising is offered while classes are in session during spring and fall semesters.

9:00-11:00 a.m. and 1:00-4:00 p.m.
Appointments are limited to 20 minutes
No walk-ins during University breaks/holidays

To speak with our staff or to schedule an appointment outside of a walk-in day, please contact University College at 419.530.3142.