Neuroscience is a great degree program if you want to go to medical school or are just curious how the brain works and plays an important part in how we function every day.
Neuroscientists study the structure and function of the human brain and nervous system. They conduct research, work in labs and provide care to patients. Neuroscientists help develop new medications and therapies for neurological disorders.
Understanding biology and the functions of the brain can help researchers and professionals answer medical questions — like how the brain perceives pain or even the cause of disorders like Alzheimer's disease.
Top Reasons to Study Neuroscience at UToledo
Take classes on both campuses.

You'll take classes on Main Campus the first two years.  Your next two years will be spent on the Health Science campus, home to The University of Toledo Medical Center.

Pathway to medical school.

Neuroscience is a great pre-med major because of the program's coursework in chemistry and biology. You'll also have access to mentoring and networking opportunities with medical school faculty.

Research opportunities.

Get involved in research with faculty mentors as early as your freshman year.

State-of-the-art facilities.

Learn and practice in our cutting-edge facilities and labs. Our professional simulation center offers a second-to-none learning environment with virtual reality and immersive technology.

Expert faculty.

Our faculty are experts in a wide range of fields and disciplines.
What jobs can I get with a neuroscience degree?
Graduates of Neuroscience bachelor's degree programs often go on to medical or graduate school.
A Neuroscience degree prepares you for a professional career in medical and scientific fields such as:
Biomedical research
Medical device development
Biotechnology
Scientific advocacy
Public policy
Scientific writing
Hands-On Learning Opportunities
At UToledo, we take you beyond the textbooks and the four walls of a classroom. These real-world experiences are what help our graduates gain professional skills and land jobs.
Internships
Research
Study Abroad
Rocket Kids Semester
On-campus and Part-time Jobs
Student Organizations
Tuition and Scholarships
Most new students don't pay full price. 94% of new UToledo students receive scholarships or other state and federal aid.
Keep in mind: Your cost will vary by college, program and a host of other options. This is the average amount full-time students pay per year.
---
How to pay for collegeInternational Student - How to Pay for College
Choose Ohio First scholarship
Ohio residents who have been accepted into this STEM program are eligible for the Choose Ohio First scholarship — a four-year, renewable scholarship.

Honors College
The Jesup Scott Honors College at The University of Toledo offer our best and brightest the resources and opportunities needed to unlock your fullest potential. Whether you aspire following graduation to cure disease, innovate technology, advance statecraft, redefine markets, or express creatively, together we can fuel vibrant and promising tomorrows.
Honors students come from a variety of countries, backgrounds and cultures. While we may bond over a tough class, our differences make us blossom.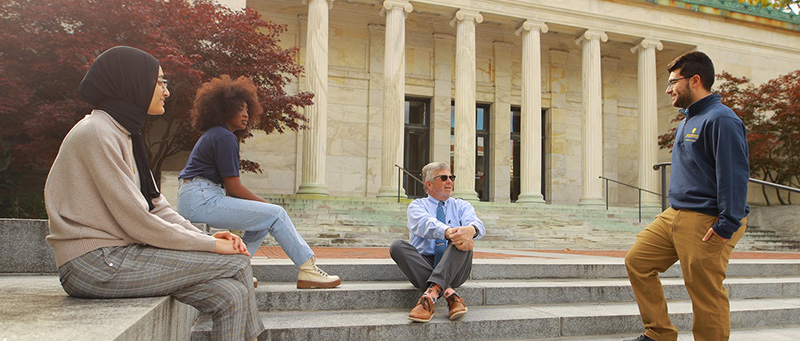 Benefits of Honors
The Honors College is a community of academically gifted students from all majors on campus. Students take unique Honors classes taught by dedicated Honors faculty and complete an Honors thesis or capstone project in their major, earning the Honors medallion at graduation within their normal program of study. Honors students are challenged to think more deeply and broadly about what they learn. With special academic, cultural, and professional development opportunities, their education extends beyond the classroom.
Honors students can also choose exclusive housing in the Honors Academic Village or the historic McKinnon, Scott and Tucker Halls.
Explore more about what the Honors College can offer you as a budding professional, inquisitive scholar, and engaged person.
Visit Campus
A campus visit is the best way to figure out if UToledo is a great fit for you.
Learn More and Register