Students in the Department of Women's and Gender Studies at The University of Toledo study the contributions, experiences, history and issues facing women in the U.S. and across the world. UToledo's curriculum also explores the complexity of gender as it intersects with other identity categories and shapes our experiences.
UToledo Women's and Gender Studies undergraduates work with advisers to tailor a program that fits their interests and goals.
Women's and Gender Studies is an interdisciplinary program. Students can take courses across academic departments as they explore the many facets of gender, race, class, religion, culture and more.
Top Reasons to Study women's and gender studies at UToledo
Award-winning faculty.

Our Women's and Gender studies faculty has been lauded for teaching and advising. They are active researchers with diverse interests, including:

Sudanese politics and law
Women in Islam
Bullying
African-American women poets
History of women in silent film
Women in U.S. politics
Girlhood and adolescence

Service learning.

Women's and Gender Studies undergraduates work on events and projects in the community. They partner with faculty to organize seminars, performances and other events. Past projects include Women in the Director's Chair (a touring, international film festival), Eating Disorders in a Disordered Culture (a public art campaign) and Take Back the Night (an anti-violence against women event).

Emphasis on research.

Every Women's and Gender Studies class has a research component. Undergraduates have recently collaborated with the Toledo domestic violence community to perform participatory, action research in Lucas County. Students also are invited to share their research with the UToledo community at monthly student research showcases.

Unique, in-depth classes.

Students in the Women's and Gender Studies program participate in two proseminars that prepare them for professional life. A senior seminar dives deeply into topics ranging from women in the Middle East to community organizing to girlhood and adolescent studies.

Mentor program.

Faculty mentors help Women's and Gender Studies majors explore career options and support students as they pursue long-term professional goals.

Required internship.

UToledo Women's and Gender Studies students work with local, national and international organizations.

Be a leader.

Women's and Gender Studies undergrads participate in national leadership conferences and workshops. The UToledo Feminist Leadership Alliance, a vibrant student organization, is often led by WGST majors.
What jobs can I get with a women's and gender studies degree?
Women's and Gender Studies graduates find jobs in the public and private sectors for such employers as the President's National Security Council and women's advocacy organizations such as Planned Parenthood, in addition to local women's advocacy groups like the YWCA and public welfare organizations like the Lucas County Children & Family Services.
Women's and Gender Studies alumni have enrolled in law and medical school as well as graduate programs in English, higher education, theology, women's studies and more. They have been accepted at:
Bowling Green State University
Case Western Reserve University
Emory University
Michigan State University
Ohio State University
Syracuse University
University of Michigan
University of North Carolina
University of Toledo
Hands-On Learning Opportunities
At UToledo, we take you beyond the textbooks and the four walls of a classroom. These real-world experiences are what help our graduates gain professional skills and land jobs.
Internships
Research
Study Abroad
Rocket Kids Semester
On-campus and Part-time Jobs
Student Organizations
Tuition and Scholarships
Most new students don't pay full price. 94% of new UToledo students receive scholarships or other state and federal aid.
Keep in mind: Your cost will vary by college, program and a host of other options. This is the average amount full-time students pay per year.
---
How to pay for collegeInternational Student - How to Pay for College
Choose Ohio First scholarship
Ohio residents who have been accepted into this STEM program are eligible for the Choose Ohio First scholarship — a four-year, renewable scholarship.
Honors College
The Jesup Scott Honors College at The University of Toledo offer our best and brightest the resources and opportunities needed to unlock your fullest potential. Whether you aspire following graduation to cure disease, innovate technology, advance statecraft, redefine markets, or express creatively, together we can fuel vibrant and promising tomorrows.
Honors students come from a variety of countries, backgrounds and cultures. While we may bond over a tough class, our differences make us blossom.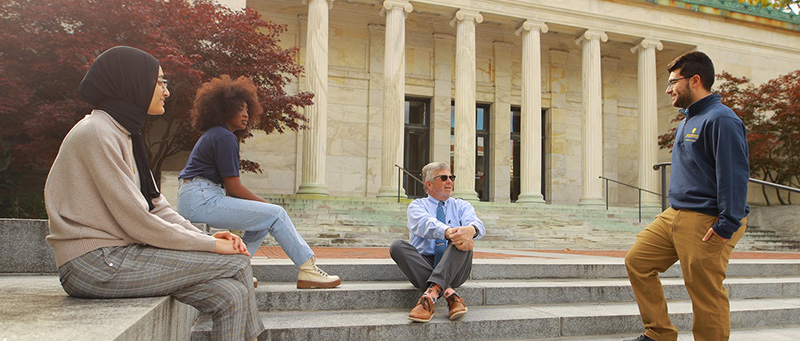 Benefits of Honors
The Honors College is a community of academically gifted students from all majors on campus. Students take unique Honors classes taught by dedicated Honors faculty and complete an Honors thesis or capstone project in their major, earning the Honors medallion at graduation within their normal program of study. Honors students are challenged to think more deeply and broadly about what they learn. With special academic, cultural, and professional development opportunities, their education extends beyond the classroom.
Honors students can also choose exclusive housing in the Honors Academic Village or the historic McKinnon, Scott and Tucker Halls.
Explore more about what the Honors College can offer you as a budding professional, inquisitive scholar, and engaged person.