Charlene Gilbert
Dean of the UToledo College of Arts and Letters
Interim Vice president for diversity and inclusion
Dean Gilbert has been a leader in higher education for more than 20 years.  She began her career as a faculty member and over the years has served in a variety of higher education leadership positions.  She became the Dean of the University of Toledo's College of Arts and Letters on July 10, 2017 and was named interim vice president for diversity and inclusion effective Aug. 30, 2021.
During her tenure, the College of Arts and Letters (CAL) has seen record highs in retention rates, graduation rates, and external research funding.   Faculty in the College have received numerous accolades for their research excellence including four Fulbright scholars, a National Endowment for the Humanities Fellow and a winner of the Kennedy Center's National Playwright Award.  In addition, students in the college have significantly increased their participation in undergraduate research both on campus and at regional and national conferences.  This past fall CAL students represented over 20% of the student participants in the University's annual undergraduate research showcase.   In the spring CAL students were part of two teams of students who competed in the international Biodesign Challenge at the Museum of Modern Art in New York city. 
During her first year as Dean, Gilbert led the College through a college-level strategic planning process that identified the following five key values as the foundation for achieving strategic success during the next five years:  Integrity, Excellence, Diversity, Engagement and Innovation.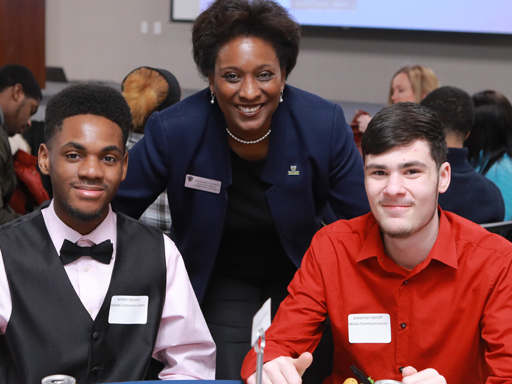 Dean Gilbert is deeply committed to building the College of Arts and Letters into one of the finest liberal arts colleges, housed in a public university, in the country.  In her first year as Dean, the College approved a new minor in Data Analytics.  In her second year, she led a university-wide initiative to develop new majors in data analytics and data science. Other curricular initiatives under her leadership have included:  a LatinX curriculum infusion project, a graduate certificate in Disability Studies, a re-activated Masters in Public Administration program, and an ongoing effort to develop an interdisciplinary doctoral program in the humanities. 
Gilbert believes that creating a supportive and engaging academic environment is essential to academic excellence.  During her tenure as Dean, the College established a New Scholars Program designed to create an intellectual community for students who are highly engaged in terms of their academic achievements, commitment to service and/or leadership.  In addition to co-curricular activities, Gilbert has prioritized scholarship support for students in need.  Under her leadership the College has created the Strategic Scholarship Initiative designed to support students in academic good standing who need a small amount of financial assistance to stay on track to graduation.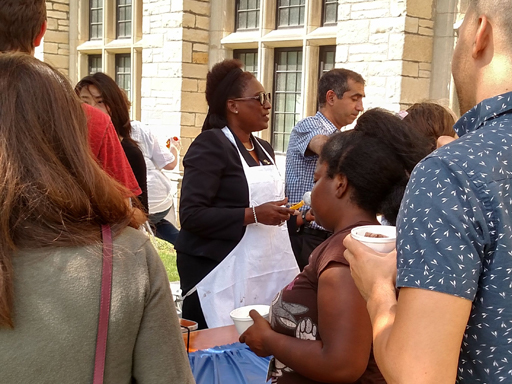 From July 2014 to July 2017, Professor Gilbert served as the Dean and Director of the Ohio State University, Lima Campus.  During this time the campus saw record increases in retention rates, graduation rates, and fundraising.  Under Gilbert's leadership, the campus became known for its commitment to community engagement efforts focused on creative collaborations and service.  She also served as a Professor in the OSU Department of Women's , Gender, and Sexuality Studies. Prior to this position, she had been at the University of Toledo as a full professor and Chair, in the Department of Women's and Gender Studies and the founding director of the School of Interdisciplinary Studies.
In addition to serving as the Dean of the University of Toledo's College of Arts and Letters, Gilbert is also a tenured full Professor in the Department of Theatre and Film.  For the past 20 years Gilbert has been an independent documentary filmmaker, teacher and scholar. She has been a national producer for public television and has produced two award-winning feature documentaries and several short non-fiction films. Her first feature documentary film, Homecoming Sometimes I am Haunted by Memories of Red Dirt and Clay, premiered nationally on PBS and won several national awards for Best Documentary.  Professor Gilbert also co-authored, with Quinn Eli, a companion book to the film, also entitled Homecoming, published by Beacon Press. Her documentary, Children Will Listen, which followed DC public school children engaged in a year-long theater arts project, premiered at the 2004 AFI Silverdocs Documentary Festival and had a national primetime PBS broadcast premiere.  Her films and videos have been screened in numerous international and national festivals including the Women in the Director's Chair Festival, the Chicago International Television Festival, FESPACO, the Athens International Film and Video Festival, and the Philadelphia Festival of World Cinema.
Gilbert is the recipient of several awards and fellowships including the Rockefeller Media Arts Fellowship, Harvard University's Bunting Fellowship, the Kellogg National Leadership Fellowship award and the American Council on Education Fellowship. Dean Gilbert received her bachelor's degree from Yale University, her Master of Fine Arts degree from Temple University and Ph.D. from the University of Nebraska.
Office UH 3160 
Email charlene.gilbert@utoledo.edu
Phone 419.530.2413