KOHLER INTERNATIONAL GRANTS
Applications for the fall 2019 round must be received
by 5:00 p.m. on Monday, September 10, 2018.
Applications for the spring 2019 round must be
received by 5:00 p.m. on Friday, January 25, 2019.

Funding must be spent by  June 21, 2019.
Note this deadline is for spending not travel deadline.
The Kohler International Grant Application
is open two times a year one for
Fall Travel and one for Spring/Summer travel.
Contact: Kohler@UToledo.Edu
The Kohler International Grant Application is open two times a year one for Fall Travel and one for  Spring/Summer travel.
The University of Toledo's Center for International Studies and Programs invites applications for Kohler grants for international travel for the 2018-2019 academic year.
The intent of these grants is to facilitate international research, teaching at overseas institutions, international program development, and other activities to advance UT's global activities as acknowledged in the 2017-2022 Strategic Plan. The awards are funded by the Foy D. and Phyllis Penn Kohler Fund for International Studies. 
International Travel Awards for Research and Teaching & International Program Development Awards
The Kohler fund will provide individual awards of up to $1,500 primarily to support high quality travel and other worthy international projects that: 
1)  raise the profile of UT faculty in international communities;
2) promote UT's international and study abroad programs by establishing or deepening connections with international organizations or partners;
3) support research or teaching projects on topics related to 1 or 2 where international travel is required; or
4) support other goals or objectives identified in the 2017-2022 Strategic Plan.
These grants are available only to full-time tenure and tenure-track faculty, teaching faculty lecturers or equivalent, and department chairs. Grant decisions will be based on the quality of the proposed travel and the need for central funds from the Kohler endowment.  The request should clearly identify the purpose or purposes of the trip with the understanding that travel can support multiple objectives.  For instance, a faculty member may request support to present a paper at an international conference and while in a foreign country meet with university officials to explore joint academic programs. 
Application Process     
To apply for any of these grants, provide a description of your project including the following information (the narrative response to questions 1 and 2 must not exceed three pages in length): 
1.  Summary of the project, including specific goals for the experience and dates of proposed travel.  For requests involving the presentation of a paper at an international meeting the significance of the meeting must be explained, the process for selecting speakers described, the likelihood that the presentation will result in a high quality publication explained, and copy of the conference agenda provided. If the request is related to teaching, there must be an explanation on how the travel will result in changes to specific courses, the offering of new courses, or other changes relating to the faculty member's teaching responsibilities. For requests to support international research or scholarship, the application should explain the benefits to the faculty members research/scholarship program and why other funds are not available for international travel.
2.  Projected benefits for you, your department and/or your college, and the university, or the communities that the university serves.
3.  Budget for the project, including information on other sources of funding, such as your department or college travel account, or other similar-type awards.  For faculty members with grant funding or access to indirect accounts and explanation must be provided on why support from the Kohler fund is necessary.
4. A letter of support from your department chair. (If you are the chair, letter of support from your dean). The letter of support should be more than cursory.
5. A copy of the final report that was submitted following completion of the most recent previous Kohler-funded project. Reports not submitted by August 27 for FY award year 2018 will not be eligible.
6. The application should be completed online by visiting this Kohler Application link.
7. Incomplete applications or those that do not comply with the program instructions may be summarily denied.
Review Process
Applications will be reviewed by a committee appointed by the Office of the Provost.  The decision will be based upon the merits of the proposed activity, the need for funds specifically from the Kohler fund, the availability of funds, and the quality and responsiveness of the application.
Applications for the fall 2018 round must be received by 5:00 p.m. on Monday, September 10, 2018.
Applications for the spring 2019 round must be received by 5:00 p.m. on Friday, January 25, 2019.
All funding must be spent by June 21, 2019.  Please note this deadline is for spending not for travel.
Notes:  If granted the Kohler Grant the applicant will be given their own grant index to charge their award amount by Friday, June 7th, 2019. Please note proof of spending has to be sent by June 21st, 2019 by running a Transaction Detail Income Statement Accounts report of the applicants grant index. Faculty members receiving awards are required to provide a written report of their experience to the Kohler Committee within 30 days from the end of the project.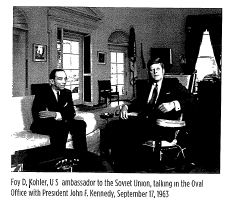 Foy D. Kohler was a career diplomat who was inspired to enter the Foreign Service by Brand Whitlock. Kohler attended the University of Toledo from 1924 to 1927, but graduated from Ohio State University in 1931. He began his Foreign Service career right after graduation, serving in Canada, Romania, Yugoslavia, and Greece, among other posts. In 1958, as the Cold War was heating up, he became Deputy Assistant Secretary of State for European Affairs. In this capacity, he coordinated the visit of Soviet Premier Nikita Khrushchev to the United States in 1959, and the subsequent visit to Vice President Richard Nixon to Moscow. It was during this visit that Nixon and Khrushchev had their famous "kitchen debate", which Kohler witnessed. Kohler also advocated for a massive military build-up in Berlin during the crisis that resulted in that city being divided between Communist East Berlin and democratic West Berlin.
In subsequent foreign posts, Kohler dealt with many other crisis situations. His most important diplomatic post was as ambassador to Soviet Union from1962 to 1966, which he assumed just before the near nuclear showdown with Russia known as the Cuban Missile Crisis. When President John F. Kennedy was assassinated in November 1963, it was up to Kohler to officially convey the news to the Soviet leadership, and to communicate the peaceful transfer of power to Vice President Lyndon Johnson. The ambassador also hosted a memorial service at the American Embassy for the slain president which was attended by all of the Soviet leaders, who signed a memorial book. As ambassador,°he also worked to promote nuclear non-proliferation talks between the United States and the U.S.S.R.
After his Russian post, Kohler was promoted to Career Ambassador, and received the Distinguished Honor Award from the Department of State. He retired and became a consultant and professor at the Center of Advanced International Studies at the University of Miami in Florida.