Water Treatment, Water Infrastructure, Water Testing, Detection and Monitoring Subcommittee
Committee Charge
Subcommittee will focus on processes. The faculty have expertise in water treatment processes (i.e. Looking at the effectiveness of different treatment technologies in removing/destroying microcystin along with other contaminants). We can partner in doing bench-scale studies of existing, future and possibly proposed methods of water treatment. To what level is rejection possible? And, how can rejection be enhanced? We can also put systems in perspective based on carbon footprint. 
Subcommittee will focus on distribution systems since we are well positioned with expertise and monitoring water as it leaves the water treatment plant and moves through the system to homes. We can address how the microcystin interacts with distribution system biofilms, biostability, pipes, chlorination… that is, what happens to it. 
Stormwater management. Bypass issues can account for problems and how can these be addressed to minimize water ending in the Lake. 
Wastewater treatment and reduction/removal of nutrients. 
Phosphorus and other nutrient presence and removal from sediments. 
The Center for Materials and Sensor Characterization (CMSC) has equipment to help in measuring/studies related to microcystin. They will put together what is necessary to perform testing here including how to potentially become accredited to run tests. 
Presentation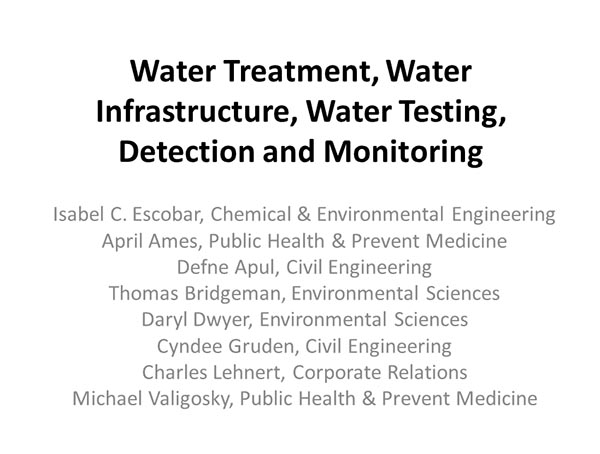 Water Treatment, Water Infrastructure, Water Testing, Detection and Monitoring