Blackboard Catalyst Award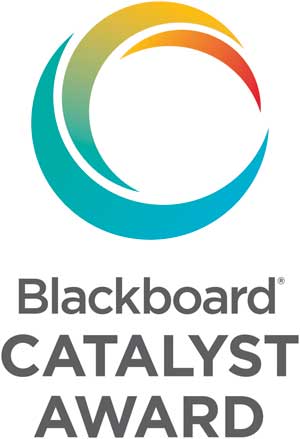 "The Blackboard Exemplary Course Program (ECP) began in 2000 with the goal of identifying and disseminating best practices for designing high quality courses. The core of the program is the ECP Rubric, which defines key characteristics of high quality courses within the framework of Course Design, Interaction and Collaboration, Assessment, and Learner Support." excerpt Bb site
Exemplary Course Award — This award recognizes faculty and course designers who develop exciting and innovative courses that represent the very best in technology and learning.
* Fundamentals of Digital Media was also one of ten exemplary course winners selected as a Directors' Choice for Courses With Distinction
---
Inclusive Education Award — This award honors those institutions whose methods have ensured their pedagogy, content, technology, and educational services are fully inclusive and supportive of all learners with disabilities.
Inclusive Education Award
---
To learn more about the Blackboard Exemplary Course Program, please visit the Blackboard Catalyst Awards page. If you are interested in submitting your online or blended course to this program, please contact our instructional designers.