Educational Psychology Program
Professional Associations & Scholarly Journals
On this page:
Professional Associations
_____________________________________________
American Educational Studies Association
http://www.educationalstudies.org/aboutus.html
The American Educational Studies Association (AESA) was established in 1968 as an international learned society for students, teachers, research scholars, and administrators who are interested in the foundations of education. AESA is a society primarily comprised of college and university professors who teach and research in the field of education utilizing one or more of the liberal arts disciplines of philosophy, history, politics, sociology, anthropology, or economics as well as comparative/international and cultural studies. The purpose of social foundations study is to bring intellectual resources derived from these areas to bear in developing interpretive, normative, and critical perspectives on education, both inside of and outside of schools. The role of AESA is to provide a cross-disciplinary forum wherein scholars gather to exchange and debate ideas generated from the above mentioned areas. This cross-disciplinary commitment of the organization creates a landscape for the discussion of broader policy issues such as minority studies, gender studies, multicultural education, democracy, and issues of educational equality and equity. Our membership is dedicated to examining issues in education from a plurality of academic viewpoints and perspectives.
Scholarly Journals
_____________________________________________

In Factis Pax is a peer-reviewed online journal of peace education and social justice dedicated to the examination of issues central to the formation of a peaceful society - the prevention of violence, political challenges to peace and democratic societies. Social justice, democracy, and human flourishing are the core factors which highlight the importance of the role of education in building peaceful societies. We invite articles and book reviews on topics related to these central issues.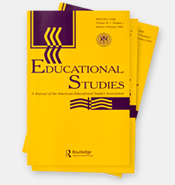 Educational Studies is a scholarly journal by the American Educational Studies Association (AESA). 
"Articles are invited that deal with issues and questions within the broad interdisciplinary field of educational foundations.  Such articles may explore, for example, questions surrounding teaching within the field of foundations, issues of discipline-based or interdisciplinary research methodologies, or significant findings from within the foundations fields. Publications will be determined by juried review. Poetry, essay, review, and submissions dealing explicitly with the social foundations classroom are also being accepted."