At a Glance - The College of Engineering
"Vision.Action.Innovation"


Quality Metrics

At least

one year

of fully-integrated co-op experience for every engineering science undergraduate student (one of only 8 such programs in the U.S.) - more than 19,100 placements at 2,444 employer sites in 44 states, Washington DC, Puerto Rico and 43 countries
Strong outreach program - visits with more than

140,000

high school math and science students at

2050

schools.
Selective admission standards yielding

38%

of all UT high school valedictorians,

36%

of all UT Honors students, and freshman cohort averages of

3.7 GPA and 26 ACT

(84th percentile nationally).
More than

85%

freshman to sophomore retention rate - a

35% increase

since the early '90s.
Ranked in the

top 50

in the nation for its online graduate programs by the U.S. News and World Report.
Annual research expenditure exceeding $9M.
"We recruit a graduating class... not a freshman class."
---
Research Priorities



Cyber Security, Sensors, & Network

Advanced Materials

Biomedical/Biotechnology

Energy & Environment
---
Special Initiatives
Doctoral program in biomedical engineering offered jointly with the College of Medicine.
Joint UT baccalaureate degree program - Bachelor of Science in Information Technology - in partnership with the College of Business and Innovation.
School of Green Chemistry and Engineering in partnership with the College of Natural Sciences and Mathematics.
Engineering Center for Orthopaedic Research Excellence (E-CORE) in partnership with the College of Medicine.
Center for Materials and Sensor Characterization (CMSC) featuring state-of-the-art microscopy.
Senior Design Clinic - an avenue for students to devise innovative solutions for industrial problems.
Senior Design & Undergraduate Research Exposition a bi-annual engineering showcase highlighting student ingenuity, innovation and implementation.
Thomas & Elizabeth Brady Freshman Engineering Entrepreneurship Development (FEED) Program with innovative design curriculum.
Roy and Marcia Armes Engineering Leadership Institute (ELI)- unique professional development opportunity for outstanding student leaders
Student Innovation Fund to promote technopreneurship among our students.
National visiting board of accomplished leaders from industry and academia.
College of Engineering Living Learning Center in Honors Academic Village. 
---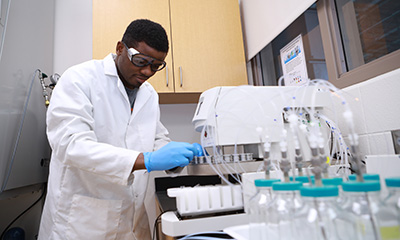 Students will partake in:
Industry/Community Connections & Service Learning
Undergraduate & Graduate Research
Rigorous Engineering Curriculum
Integrated Co-Op Program
MS, PhD, MBA, JD, MD Opportunities
On-site Commercialization
Entrepreneurial & Leadership Training
A wide variety of student organizations

For further information, please contact: