Jesup Scott Honors College
Get connected
Contact Us
Main Campus
MacKinnon Hall 2000
Mail Stop 504
Phone: 419.530.6030
Fax: 419.530.6032
honors@utoledo.edu
Applications
Welcome to the Academic Village!
Academic Village
As a member of The University of Toledo Honors College, you enter into a unique environment of community, diversity and engagement. The Academic Village offers a wide variety of extracurricular activities—both on and off campus—and provides all Honors students with the opportunity to participate in intellectual, cultural and social events.
 As member of the Academic Village, you are an integral part of our Honors community!

Academic Village activities and events:
Community service opportunities
Field trips and cultural events
Forums and talk led by faculty and community leaders
Book club
Movie Nights
Social gatherings, musical evening and fun times!
Honors Living Learning Community (HLLC)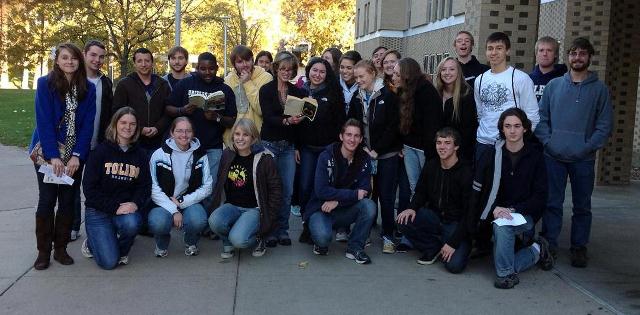 A great way to enhance your academic experience is to join the Honors Living Learning Community (HLLC). The HLLC is offered in two traditional style residence hall locations: Academic House and MacKinnon Hall.
The Academic House offers two- and four-person bedrooms with community bathrooms and is conveniently located close to Sullivan Hall, home of the Honors College. Click here to view a virtual tour room of Academic House.
MacKinnon Hall is an exclusively honors student residence hall with traditional style double bedrooms that have been converted to single one-person rooms with community bathrooms. Click here to view a virtual tour of MacKinnon Hall.
To be a part of the Honors Living Learning Community, you must complete the Honor Living Learning Community agreement within the Housing Portal application.
In Academic House (A-House), a few steps from Sullivan Hall, home of the Honor's College and in MacKinnon is located in the heart of campus.
In the HLLC, students travel through their first year experience as a team, sharing and learning with their peers.
Tutoring sessions, hall dinners, and group projects are just part of what you'll experience as a resident of HLLC. Our cohort offers you special programs, talks and projects designed to add a layer of knowledge and fun to your academic journey.
The Honors College is committed to community, academic and social growth. The HLLC provides a great platform for to fulfill these goals as both as individual and as a member of our Academic Village.

In addition to the all-Honors Academic Village events, as a resident in the HLLC you'll have:  
Close proximity to Honors classrooms and gatherings
Participation in program planning and events
Extended access to Sullivan Hall Lounge for study and discussion
A proactive role in planning HLLC activities
Opportunity to develop an academic-centered community where you live
Check Out our HLLC Photo Gallery!
There is a $50 per semester programming fee associated with Honors Living Learning Community.
For additional information email Page Armstrong at page.armstrong@utoledo.edu
The University of Toledo provides Honors students the opportunity to choose from a variety of outstanding residence hall options. First choice of residence halls will be granted if the housing application has been postmarked by April 1.
Explore Residence Life living opportunities.