Choose Ohio First Scholarship Program

The University of Toledo is proud to host two Choose Ohio First Scholarship programs: 
For more information on the goals of this state-wide Choose Ohio First Scholarship program, visit https://www.ohiohighered.org/cof.
Building Ohio's Sustainable Energy Future scholarship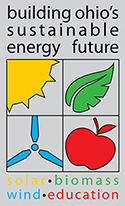 The Choose Ohio First scholarship program from the State of Ohio supports scholarships at The University of Toledo and Bowling Green State University (BGSU) for high achieving and motivated students to study the science and technology of renewable energy and sustainable environmental practices. Ohio is investing in the preparation of talented scientists and engineers to support economic growth in "green technologies" that are expanding rapidly in Northwest Ohio and throughout the U.S.
The Choose Ohio First scholarship program funds the Building Ohio's Sustainable Energy Future scholarship at UT, which is designed to increase the number of Ohio resident students majoring in areas of the sciences and engineering important to the development of renewable energy technologies and environmental sustainability. One key aspect of the program is that it offers students opportunities to conduct cutting-edge research in: faculty research labs at UT or BGSU; the Wright Center for Photovoltaics Innovation and Commercialization; in regional photovoltaic companies; the Lake Erie Research Center; and/or environmental-emphasis offices/agencies. Participating UT departments include: Physics and Astronomy, Chemistry, Environmental Sciences, Mathematics, and departments in the College of Engineering. UT offers a minor in renewable energy and a minor in sustainability that will further support this program.
The anticipated features of the Building Ohio's Sustainable Energy Future scholarship for the upcoming academic year (AY2020-2021) are:
Scholarship amount: $4,750, with possibility of scholarship renewal in following year(s).
Number of UT scholarships: at least 10
Summer BOSEF Institute introducing the program and focused on opportunities in math and science to occur shortly before the beginning of fall semester.
Extracurricular Programming including seminars, group research projects, community engagement opportunities and field trips.
Special academic mentoring is provided for scholarship recipients.
In addition to academic year scholarships, undergraduate research positions in UT and BGSU laboratories and internships with local companies are available to BOSEF scholarship recipients.
The application deadline is April 10, 2020. 
To apply, students should send the completed application form and related materials to:
Dr. Geoffrey Martin
The University of Toledo
Department of Mathematics, M/S 942
University Hall, UH2080C
2801 West Bancroft Street
Toledo, OH 43606-3390
You may also apply by emailing a pdf version to geoffrey.martin@utoledo.edu by the posted application deadline April, 10 2020.