H: DRIVE MIGRATION
Faculty and Staff are encouraged to move files stored on their H: Drive to OneDrive as soon as possible! 
With the planned decommission of H: drive network file storage, UToledo is providing 1TB of web-based OneDrive storage space.  To preserve your H: Drive files, they must be uploaded to your OneDrive storage before September 30, 2019.
For off-campus users, follow the instructions below. Alternatively, you can log into a UToledo Virtual LAB and follow the On-Campus Instructions from any PC connected to the internet.
OFF CAMPUS INSTRUCTIONS
Go to files.utoledo.edu
Login using your UTAD credentials
Click on H: Drive in the left menu.  If you are presented with "Folder H Drive does not exist" or "Read access is denied," you do not have an H: Drive
Expand the File button and Select all 
Select Compress and download.

You will be prompted to save a .zip file containing all the files on your H: drive.
Browse to the saved location of your file and double click to view the files.
Open a web browser (Chrome, Firefox, Safari, or Edge) and go to Office365.utoledo.edu and select the OneDrive application 
Drag the files from your local computer into the onedrive window.

Note if you are using IE11 you cannot copy folders.  Please create your desired folder structure and then drag the files to the desired locations.
For More information on uploading files and additional OneDrive features visit the OneDrive Guides page 

---
Open This PC on Windows 10 or My Computer on Windows 7
Open your H: Drive labeled with your UTAD username, under network locations.



---

Double click the OneDrive Desktop Shortcut or open a web browser (Chrome, Firefox, or Edge) and go to Office365.utoledo.edu and
Select the OneDrive application. 

Note:  If using IE 11 you will not have the ability to copy folders.  

Simply drag the files from your H: drive to your OneDrive window.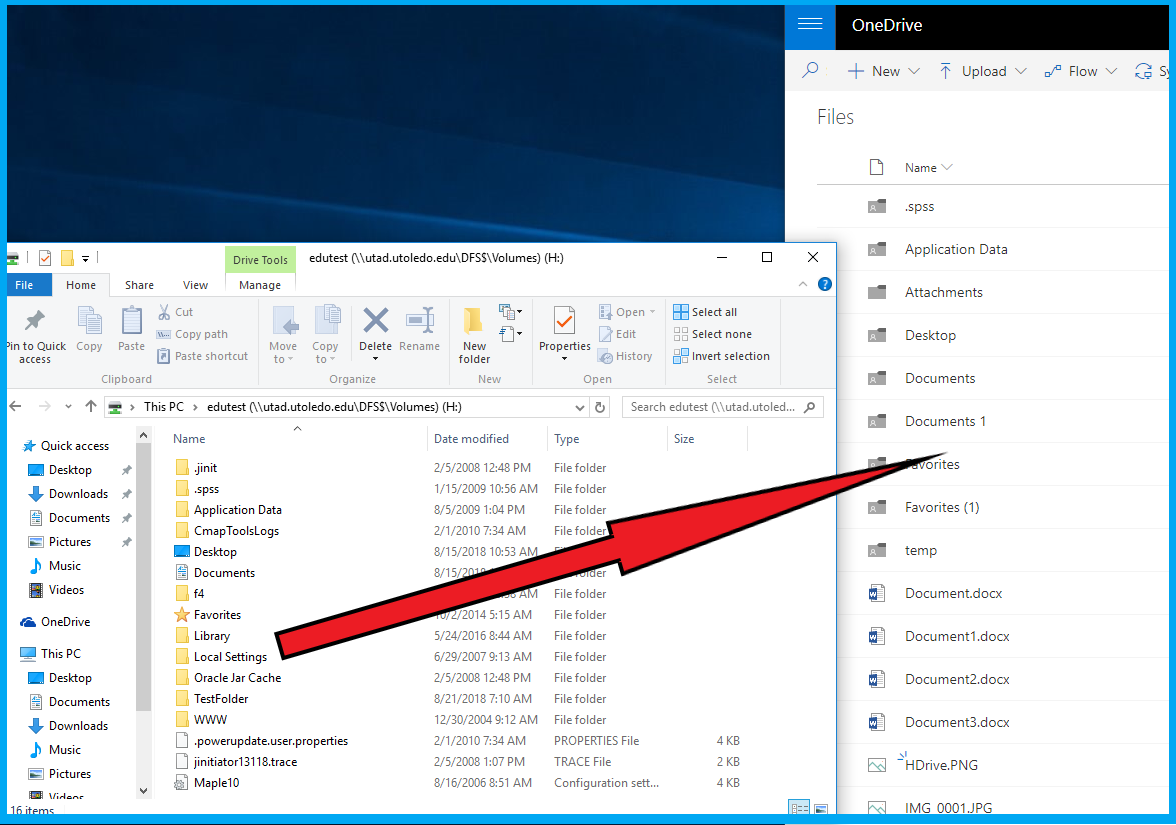 For More information on uploading files and additional OneDrive features visit the OneDrive Guides page