Christian Spears
Lecturer in Law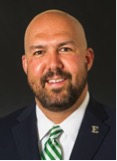 Christian Spears is in his second year as the deputy director of athletics at the University of Pittsburgh.  Spears arrived in Pittsburgh following a three-year tenure in the Eastern Michigan University Athletics Department after a five-year tenure at Northern Illinois University.
A part of the athletic department's executive leadership team, Spears oversees the external division including development, marketing, corporate partnership efforts, fan experience and media relations. He also leads strategies to increase ticket sales, merchandise and other revenue streams. In addition, Spears assists with the administration of the football program and is responsible for football scheduling.
Before coming to Pitt, Spears served as the Deputy A.D. and as the sport administrator for both the Northern Illinois University football team and the Eastern Michigan University Football team, respectively. He also served as the interim director of athletics at both schools while they conducted national searches for their new director of athletics following NIU's football Orange Bowl appearance in 2013 and EMU's return to a bowl game for the first time in 29 years following the 2016 Bahamas Bowl.
In addition to his administrative duties on campus, Spears served as president of the National Association for Athletics Compliance (NAAC) in 2012-13 and on the NAAC Board of Directors from 2008-14. 
Spears is a graduate of the University of Washington, where he majored in political science. He obtained a master's degree in public administration from Long Beach State University in 1998 and he received his juris doctor from The Ohio State University, Moritz College of Law in 2002.