Sarah Queiros, 1L
Dec. 14, 2021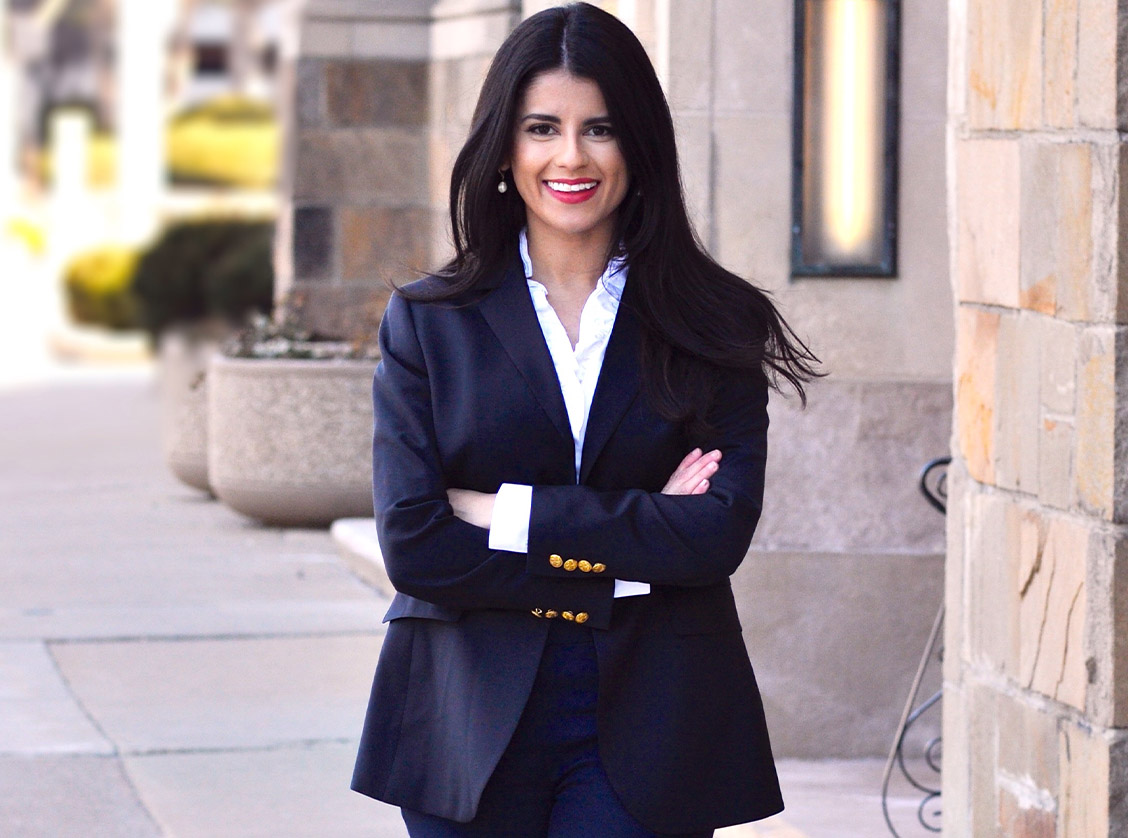 With a prior career in marketing, Sarah Queiros' first professional experience in the field of law was during her public service externship with the Escambia County State Attorney's Office in Florida. With the continued help of the Toledo Law faculty, she was able to flourish.
Hometown: Goiania, Brazil
Class Year: 1L
Legal Interest Areas: Labor and employment law and criminal law
Experiential Learning Opportunity: Public Service Externship
Employer: Escambia County State Attorney's Office
Experience Timeframe: Summer 2021
---
Q&A with Sarah Queiros
What type of work did you do?
My duties consisted of processing intake documents, preparing evidence, writing motions, conducting extensive research for upcoming cases, and attending trials.
How did Toledo Law prepare you for this experience?
As a spring start law student, I was uncertain about my legal research and writing abilities. However, I was able to apply the skills that I learned in Professor Lesa Byrnes' Legal Writing I class throughout my time at the State Attorney's Office. Additionally, throughout my externship, Professor Byrnes provided me with resources and guidance when I was unsure of how to proceed with an assignment at work.
What were the benefits of participating in this experience?
While having had a prior career in marketing, the Escambia County State Attorney's Office was my first professional experience within the field of law. During my externship, I gained a better understanding of the inner workings of our criminal justice system and the responsibilities of an assistant state attorney. The attorneys afforded me countless opportunities to gain hands-on experience. Personally, I found the exposure to trial preparation and trial hearings to be the most beneficial. I was attracted to how intellectually challenging each trial was and the skills necessary to win a case. Ultimately, this experience solidified my interest in becoming a litigation attorney.
How will this experience help you advance your career goals?
Working at the Escambia State Attorney's Office allowed for me to broaden my horizons in regard to the type of law I would like to practice. Prior to beginning my externship, I was unaware of the daily responsibilities of an assistant state attorney. I quickly learned that I enjoyed the subject matter and pace of the work. Furthermore, I recognized the importance of a legal profession that would allow for me to have a direct impact in my community. Moving forward, I hope to become more involved with organizations in Toledo that support criminal justice reform.
Why did you choose Toledo Law?
I knew that I wanted to attend law school in the Midwest. Therefore, I toured countless schools but was most impressed by Toledo Law. In my opinion, it offered a rigorous but relaxed learning environment, professors that truly cared about their students, and class sizes that were not overwhelming.
What advice do you have for incoming students?
While in law school, work hard but do not become so fixated on there being only one route to reaching your professional goals. There are multiple ways of becoming a successful attorney, and once you come to that realization, a tremendous amount of stress will be eliminated.
What are your plans after graduation?
After graduation, I hope to practice labor/employment law or criminal law. While both are incredibly different, I find it important to have a legal career that has a public policy component. Ultimately, I hope to use the experiences and knowledge that I have gained throughout my career to run for office.
---