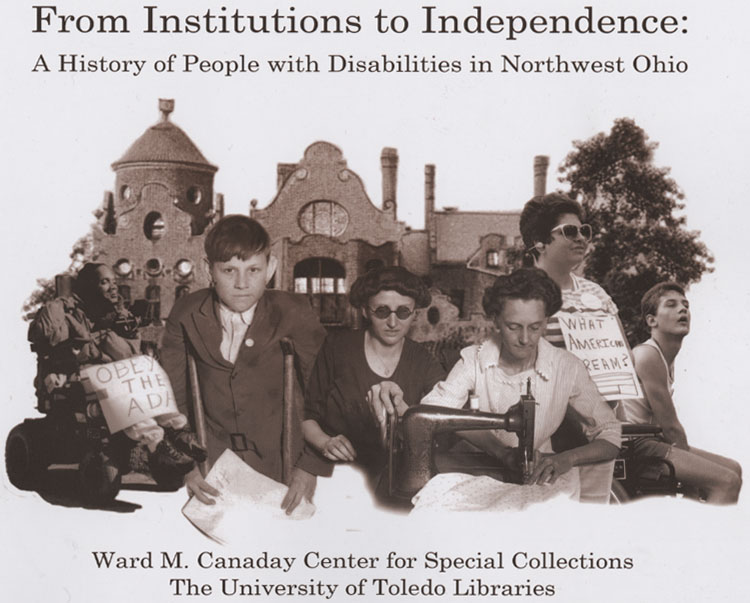 Introduction: From Institutions to Independence.
The records that archivists choose to collect shape our historical knowledge in significant ways. Prior to the 1960s, the archival profession collected records that reflected history as the story of the privileged few. Beginning with the new social history of the 1960s, archivists branched out and collected records of under-represented groups such as labor, women, and minorities. Yet one group has been neglected in this effort to more completely document our nation's past—the disabled.
In 2001, the Ability Center of Greater Toledo donated $1.9 million to create the Disability Studies Program at the University of Toledo. The program is based on pedagogy that emphasizes disability from a humanities-based perspective. As part of this initiative, the Ward M. Canaday Center for Special Collections began to collect historical records to serve as a research collection for the program. It is only after the Center began to collect these materials that we discovered barely a handful of archival repositories in the nation have disability history as a major focus of collecting. Because of the uniqueness of what became known as the Regional Disability History Archive Project, the Center has attracted not only records documenting disability in northwest Ohio, but also several collections of national significance.
The Canaday Center decided last year to present these materials to the public in the first major exhibition on the topic of disability history in our community. Thanks to a Program for Academic Excellence grant from the Office of the Provost, we have been able to mount this exhibition and produce this catalog.
In the course of the exhibit research, we discovered many surprising facts about local disability history, including that the Toledo State Hospital was the first state-supported mental health facility in the country built using the cottage system, the Toledo Rotary was one of the first philanthropic club in the country to identify disabled children as one of its major service projects, Josina Lott organized the first non-institutional sheltered workshop for developmentally disabled adults, and Bittersweet Farms was the first residential home for autistic adults in the country.
Clearly, northwest Ohio has played a significant role in disability history.
A word on terminology used in the exhibit. Because this is an historical examination of disability, it includes words that are seen today as demeaning. No insults are intended. This terminology reveals much about how society viewed the disabled throughout history.
Our sincere thanks to the individuals—mostly anonymous—who are a part of this exhibit. Your historical experiences are slowly becoming a part of our greater historical consciousness, and as a society, we owe this to you. May this be a beginning.